Grüneburgpark is the second-largest park in Frankfurt. The park, laid out in an English landscape style, features wide open meadows and tree-shaded paths.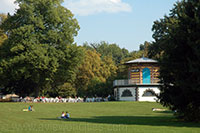 Schönhof-Pavillon
On sunny days, Frankfurters come here in droves to picnic, jog, walk, play football or simply bask in the sun on one of the park's large grass areas. A small pavilion, known as the Schönhof-Pavillon, is home to a popular café.
History
The history of the park goes back to the eighteenth century, when Peter Heinrich von Bethmann-Metzler purchased a domain with a country house and named it Grüneburg (Green Castle). Meyer Amschel Rothschild, member of the famous banking family, purchased the Grüneburg estate in the nineteenth century.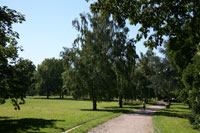 Grüneburgpark
In 1854 the family built a palace – the Neue Palais – at the site of the country house and had the terrain around the palace landscaped. Heinrich Siesmayer – who also laid out the Palmengarten – remodeled the park in 1877 into an English style garden with help from his brother Philipp.
In 1935 the city of Frankfurt acquired the domain. The following year the city opened a café in the palace and Grüneberg became a public garden, although an admission was charged. An allied air raid destroyed the palace in 1944. A black obelisk and a memorial plaque mark the site of the former palace. The former orangery of the palace is now the site of a Greek orthodox church, the Georgioskirche.
Korean Garden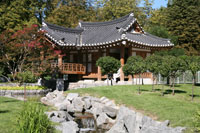 Korean Garden
Just south of the orthodox church is one of the highlights of the Grüneburgpark, a beautiful Korean Garden which opened in 2006. The garden is a gift of the Korean Republic on the occasion of the Guest of Honor presentation during the Frankfurt Book Fair in 2005.
The garden is divided into four areas representing the four seasons. Two picturesque pavilions – the Morgentau and Pflaumenlaube pavilion – grace the garden, which is decorated with ponds and small cascades. The plantation is selected for its symbolic meaning; pine trees and bamboo represent longevity.
Botanical Garden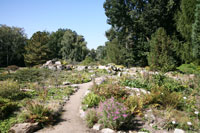 Botanical Garden
Adjoining the Grüneburg Park is the Botanical Garden, which can be accessed from Grüneburg park.
The garden, with areas devoted to plants from different parts of the world, is maintained by the Johann Wolfgang Goethe University. Unlike the nearby Palmengarten, entrance to the Botanical Garden is free of charge.