A ten minute ride on the S-bahn from Frankfurt's Hauptbahnhof (Central Station) brings you to the western suburb of Höchst, a charming town with many half-timbered houses and a late medieval castle.
History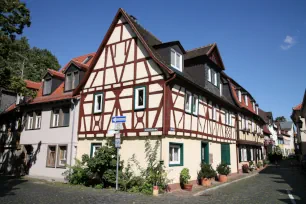 Höchst was the site of an early Roman settlement. The current history starts around the eighth century, and a small town soon developed around the Justinuskirche, built in 830.
The prince electorates of Mainz, who controlled the area, built the Höchster Schloß (Höchst Castle) between the fourteenth and sixteenth century. In 1928 the town's independence came to an end when it became part of the city of Frankfurt.
Alt-Höchst
Alt-Höchst, the old town of Höchst, has some of the most picturesque streets and houses in all of Frankfurt.
Narrow, pedestrianised streets lined with half-timbered houses lead to the Schlossplatz (Castle Square). Here you can have a pint of beer and a hearty meal while admiring the magnificent castle. The historic Justinuskirche is just a stone's throw away.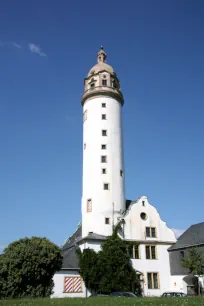 Höchst Castle
The white painted watchtower of the Höchster Schloß towers over the old town. Originally built in the fourteenth century, work on the castle continued during the following centuries and at the end of the sixteenth century it was expanded with a new structure in Renaissance style, the Neue Schloß (new castle).
In 1908 the dilapidated complex was acquired by the local industrial magnate Adolf von Brüning, who opened the castle's park to the public. Since 2002, the complex is owned by the German Foundation for Monument Protection.
Justinuskirche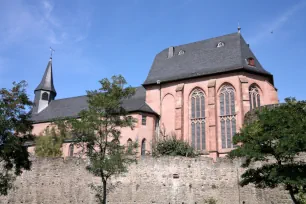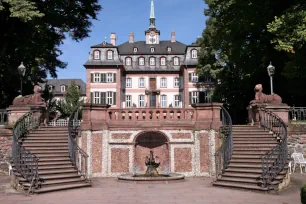 Justinuskirche or St. Justin's Church is the oldest building in Frankfurt. The church dates back to the Carolingian era and was first consecrated in 850. The three-naved church was modified during the fifteenth century, although it still retains much of its original design. The choir however was completely rebuilt in a late Gothic style. The bombastic altar was created in the eighteenth century in the then popular Baroque style.
Bolongaro Palace
One of the most interesting sights in Höchst is the Bolongaro Palast, a magnificent baroque palace built between 1772 and 1774 by the Bolongaro brothers, merchants who originated from northern Italy. In 1813 Napoleon resided here during his conquest of Europe.
The terraced garden in front of the palace was laid out in a Baroque style around the central Neptune Fountain. The balustrades along the terraced garden are decorated with sandstone figures depicting Turkish musicians.