Budapest's ornate opera house was built at the end of the nineteenth century as the Royal Opera House. The magnificent building is located at one of the city's most prestigious boulevards, Andrássy út.
Construction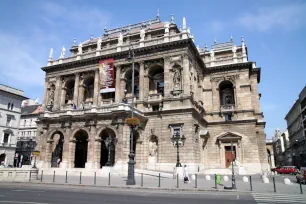 The opera house, today known as the Hungarian State Opera House, was commissioned for the commemoration of the Hungarian millennial in 1896. Miklós Ybl, Hungary's most important architect at the time, wanted the new opera house to rival those in Paris, Vienna and Dresden. The grand building took nearly a decade to complete, with construction beginning in 1875 and finishing in 1884.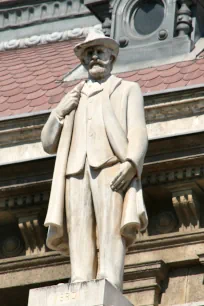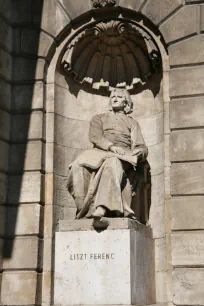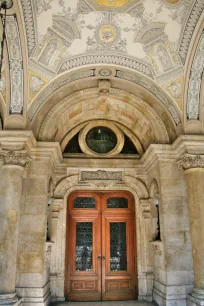 The Building
Neo-Renaissance in style, the opera house also boasts a number of Baroque elements. The building has a two-story facade with a portico and a loggia above.
On the balustrade above the cornice, visitors will find sixteen statues of the great composers of the world, including Beethoven, Mozart, Verdi, Bizet, Tchaikovsky, and Monteverdi. But the most prominent statues are dedicated to two of Hungary's most popular composers, who are shown seated in large niches on either side of the main entrance. To the right of the entrance is Franz Liszt, a prolific composer/pianist of the nineteenth century, and on the left is Ferenc Erkel, composer of the Hungarian national anthem and first director of the opera. The statues were created by Alajos Stróbl, a renowned Hungarian sculptor.
Interior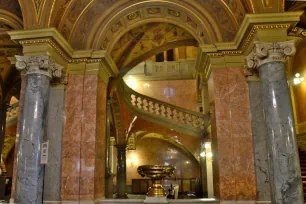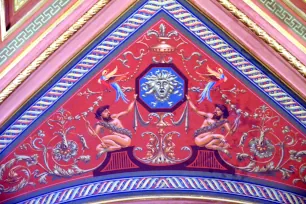 The inside of the Hungarian State Opera House is even more impressive. Frescoes and sculptures by some of the country's foremost artists, including Károly Lotz, Bertalan Székely, and Mór Than, grace the interior.
Several kilograms of gold were used to decorate the inside of the immense auditorium, which seats about twelve hundred patrons. The room is decorated with a massive, three tons weighing chandelier. The ceiling is adorned with a fresco depicting Greek gods. The foyer is just as grand, with marble pillars, chandeliers and a ceiling painting of the nine muses.
Visiting the Opera House
The State Opera House hosts a full program of opera performances and tickets go quickly, especially for the most well-known operas. Plan accordingly, so you can hear a performance while visiting Budapest. Guided tours of the opera house are also available; tickets can be obtained inside.