This early twentieth century Budapest castle was originally built on the occasion of Hungary's Millennium Celebrations. The castle is a unique blending of many different architectural styles.
Construction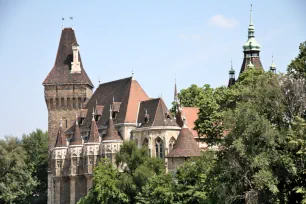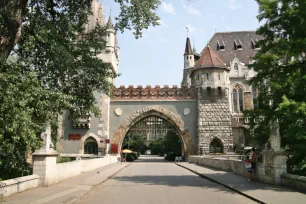 Situated in City Park, the largest park in Budapest, Vajdahunyad Castle began its life as a structure made of wood and cardboard. It was built for the millennium celebrations of 1896 and was a huge hit with both the locals and those visiting Budapest.
The castle, actually an enclave of buildings rather than just one structure, was designed by architect Ignác Alpár. He created a complex that represents each architectural style in the history of Hungary. Each section is modeled after an existing building in the Kingdom of Hungary. In total, twenty-one different buildings were integrated into the complex.
The most picturesque wing of the castle is modeled after the Hunyad Castle in Transylvania, hence its name. During the millennium celebration, the castle housed an exhibition that outlined the significant periods and events of Hungary's one-thousand year history.
Because the castle became so popular with residents, the city decided to make it a more permanent structure. Therefore, in 1904, reconstruction of Vajdahunyad Castle began, using brick and stone and following Alpár's original plans with just a few small changes.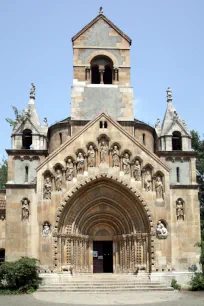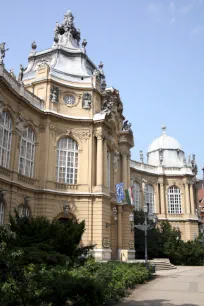 The Castle
What makes this castle so unusual is its combination of architectural styles. If you're visiting Vajdahunyad, a glance from one side may determine that the structure is Gothic. A walk around the castle may give one the impression that this is a Baroque building. You can from one place even see Gothic, Renaissance, Baroque and Romanesque architecture, all in one glance.
The different architectural styles represent the different eras in the history of Hungary: Romanesque for the age of the Árpád dynasty, Gothic for the many other Hungarian royal houses and the Renaissance and Baroque styles for the period of the Habsburg family.
The Museum
The castle is home to the Museum of Hungarian Agriculture (Magyar Mezőgazdasági Múzeum), which opened its doors here in 1897, even before the permanent building was fully complete.
The museum is accessed via a monumental staircase which brings you to the first floor where there are eight permanent exhibitions. Guests can learn about animal husbandry, forestry, fishing, Hungary's wine industry, and much more. A visit also gives you a chance to admire the beautiful interior, including a reconstruction of the Knights' Hall of the Hunyad Castle.