The Staatsoper in Vienna, one of Europe's most famous Opera Houses, was built in the mid-nineteenth century as one of the first major edifices along the Ringstraße, a grand boulevard around the inner city.
History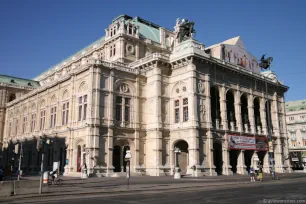 Vienna's Opera House opened on May 25, 1869, as the Hofoper (Court Opera) with a performance of Mozart's Don Giovanni.
The structure in Neo-Renaissance style was designed by August von Siccardsburg and Eduard van der Nüll. Despite the initial criticism that the roof was too simple and the building too low in comparison with the Heinrichshof across the Ringstraße (destroyed during WWII and later replaced by the banal Opernringhof) it is a grand structure that still catches the attention of passers-by. The harsh criticism eventually led to the suicide of van der Nüll, one year before the opening of the new opera house. His grieve-stricken colleague died two months later from a heart attack.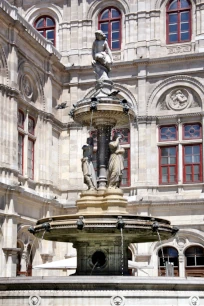 On 12 March 1945, in the midst of the Second World War, the State Opera House was hit during an air raid when an allied bomber purportedly mistook the opera house for a train station. The interior was completely destroyed by fire, but the opera house was rebuilt in 1955 by Erich Boltenstern, who followed the original design; the interior however was modernized, and the main auditorium is now less ornate.
Design
The building was designed in a High Renaissance style, with a well-proportioned loggia fronting the immense structure. The loggia is beautifully decorated with frescoes depicting scenes from Mozart's «Magic Flute». Statues in the arches are allegorical representations of Heroism, Drama, Imagination, Comedy and Love.
Perched on top of the loggia are two statues of winged horses, designed by Ernst Julius Hähnel. They represent Harmony and Poetry.
On either side of the opera house sits a marble fountain. The one on the left is decorated with allegorical figures depicting Music, Dance and Joy while the one on the right shows Lorelei, the legendary Siren, with statues of Grief, Love, and Revenge below.
Touring the Opera House
Even if you're not interested in attending one of the many – often sold out – opera performances, you can visit the Staatsoper on an approximately thirty minute during guided tour.