Boston Common and the adjacent Public Garden form Boston's most central park, right in the heart of the city.
History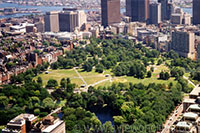 Boston Common and
Public Garden
The oldest public park in the history of the USA, Boston Common's history goes back as far as 1634, when the area was designated a common pasture. It was also used for military purposes and for public hangings. The gallows were removed in 1817 and from 1830 on the grazing of cattle was forbidden.
Ever since, the Boston common mainly serves as a public park for recreational purposes. It is a pastoral in English style with a very open character and informal layout. It is bordered by Beacon Hill, the Public Garden and downtown.
Boston Common Sights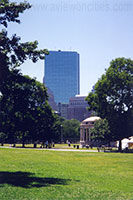 Boston Common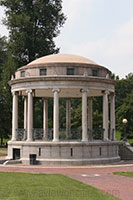 Parkman Bandstand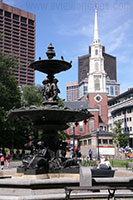 Brewer Fountain
Boston Common is littered with historical monuments.
The Parkman Bandstand was built in 1912 in honor of George F. Parkman, who bequeathed five million dollar for the maintenance of parks in Boston.
The Soldiers and Sailors Monument at Flagstaff Hill honors Civil War troops. The monument, designed by architect and sculptor Martin Milmore was erected in 1877.
Another Civil War monument is the Robert Gould Shaw Memorial, located at the edge of the Common opposite the Massachusetts State House. The relief depicts the 54th regiment, the first free black regiment in the Union Army.
The Brewer Fountain, donated by Gardner Brewer in 1868, is an exact copy of a fountain which was designed by French artist Liénard for the World Exposition of 1855 in Paris. The bronze fountain is decorated with the mythical figures of Neptune, Galatea, Amphitrite and Acis.
The Common is also home to one of Boston's oldest graveyards, the Central Burying Ground. Here are graves of many British and American casualties from the Battle of Bunker Hill in 1775.
The Frog Pond is popular with children, who can wade through the pond during summer and skate on it in the winter.
Freedom Trail
Boston's Freedom Trail, a popular walking tour along the city's historic landmarks, starts in the Boston Common, at the Visitor's center.
Emerald Necklace
The Boston Common and Public Garden are part of the Emerald Necklace, a series of parks all connected to each other. The network includes the Esplanade, the Commonwealth Avenue Mall, the Back Bay Fens, Olmstead Park, Jamaica Park, Arnold Arboretum and Franklin Park.