The Museum of Cycladic Art is a museum dedicated to the ancient Aegean cultures, covering a history of about four millennia. It is especially renowned for its collection of marble statues from the Cyclads, an island group in the Aegean Sea.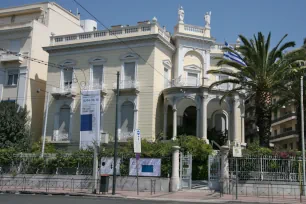 The Cycladic civilization thrived between 3200 and 2200 B.C., when they created abstract marble figures, mostly female, possibly as a form of idolatry for a goddess. These figures became popular in the mid twentieth century and inspired artists such as Mondigliani and Henry Moore.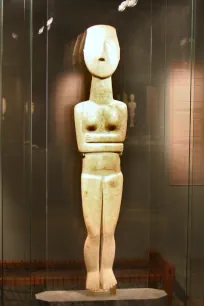 Museum History
Nicholaos and Aikaterini (Dolly) Goulandris, members of a powerful shipping dynasty, started collecting ancient Greek artifacts in the 1960s. Their collection quickly expanded, and in the 1970s it gained an international reputation thanks to the many rare Cyclad objects it contained.
The collection was first exhibited in 1978 at the Benaki Museum, and it was on display at many renowned museums worldwide, including the National Gallery of Art in Washington, the British Museum in London and the Grand Palais in Paris.
After the death of Nicholaos Goulandris, a foundation was created, to which the private collection was donated. In 1985 a modern, dedicated building was constructed in the center of Athens and the following year the Museum of Cycladic Art opened its doors to the public.
Museum Collection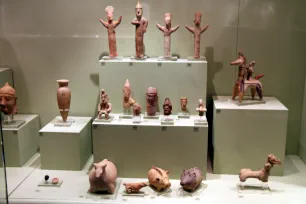 More than three thousand artifacts, covering an era from the fourth millennium BC to the sixth century AD, are on display, spread over four floors.
The first floor contains Cycladic art from 3200 to 2000 B.C. Here you'll see the famous minimalist marble figures, as well as other objects, such as bowls and vases.
The second floor covers Ancient Greek art, from the second millennium BC to the end of the Roman period in the fourth century AD. Here you'll find objects that are typically associated with the ancient Greek civilization, including bronze helmets, painted vases and classical sculpture.
The third floor is dedicated to the collection of Thanos N. Zintilis, and displays Cypriot art from the fourth millennium BC up to the sixth century AD, with many figurines and household objects made from a wide range of materials; from clay and stone to silver and gold.
The top floor highlights daily life in the antiquity with an audiovisual presentation and a display of various objects.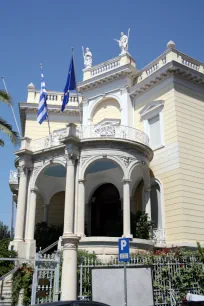 The Museum Buildings
The main building was erected in 1985 after a design by architect Ioannis Vikelas. The modern building, with glass and marble, is home to the museum's permanent collection.
In 1991 the Museum of Cycladic Art leased the Stathatos Mansion, a neoclassical building designed by Ernst Ziller, a German architect. It was originally built in 1895 for the family of Othon and Athina Stathatos. It has an elaborate front porch, crowned with neoclassical statues. The magnificent interior of the mansion is now used for temporary exhibitions.
In 2005 the museum expanded again with a new wing, used mainly for lectures and seminars.