The building for the University was one of the first neoclassical structures built in Athens after the city became the capital of Greece in 1834. It is the oldest of a group of three neoclassical buildings that are collectively known as the trilogy of neoclassical Athens.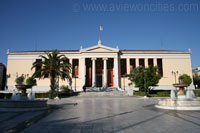 University of Athens
Two years after Greece gained its independence from the Ottoman Empire in 1832, the newly crowned king Otto I moved the capital of Greece from Nafplio to Athens. During king Otto's reign, Athens was transformed into a modern metropolis: wide avenues were created, and monumental buildings were erected. The buildings were designed in neoclassical style, a symbolic reference to the heyday of Greece in the fifth century BC.
Trilogy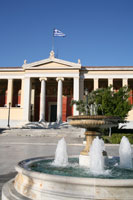 University of Athens
One of the main avenues laid out during the reign of Otto I is the Panepistimiou, officially known as the Eleftheriou Venizelou. During the nineteenth century, stately buildings were erected here to house cultural, economic and administrative institutions. The most interesting are a group of three neoclassical buildings that are known as the 'Athenian trilogy': the Academy, the University and the National Library.
Construction
The university is the oldest and largest of these three buildings. It was designed by Christian Hansen, a Danish architect who had been appointed as court architect by king Otto in 1834. Construction of the university – initially known as the Othonian University – started in 1839. Due to financial difficulties, the work would drag on, and it wasn't until 1864 before the building was finally completed.
Design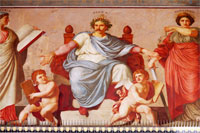 Mural detail
Christian Hansen, with the help of his younger brother Theophil Hansen, designed a well proportioned neoclassical building with a central Ionic portico. A colonnade with rectangular pillars runs along the facade.
The interior of the portico is decorated with colorful murals created by Carl Rahl. The murals depict figures in classical attire gathered around king Otto and symbolize the renaissance of the arts and science in nineteenth-century Greece. Atop the portico, statues of sphinxes refer to the ancient Greek legend of Oedipus.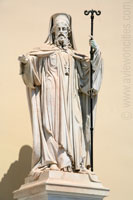 Gregorius V
Statues
Four statues in front of the university building commemorate important figures in the history of modern Greece: martyrs Rigas Feraios and Gregorius V (a revolutionary writer and an orthodox patriarch, both killed during the wars of independence), writer Adamantios Korais – whose ideas of democracy inspired Greek revolutionaries – and Ioannis Kapodistrias, the first head of state of independent Greece.