Maria-Theresien-Platz is a square just north of the Hofburg that was created in the nineteenth century. It is named in honor of Empress Maria Theresa, whose huge monument is the centerpiece of the square.
Kaiserforum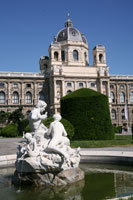 Fountain
As early as in 1848 plans were made to create a museum complex where the royal art collections that were spread out over the city could be displayed together.
With the demolition of the fortifications around Vienna, the opportunity arose to create a new monumental royal complex. By 1870 an ambitious design by Gottfried Semper, dubbed the Kaiserforum, was approved. Construction of this Kaiserforum started the following year and consisted of the creation of two museum buildings as well as two new palace wings (of which only one was eventually completed) – the Neue Burg – and two squares: Heldenplatz and Maria-Theresien-Platz. Plans to connect the two squares across the newly created Ringstraße by two triumphal arches were never realized due to the outbreak of the First World War.
Museums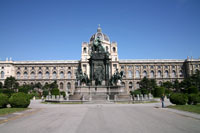 Maria-Theresien-Platz
seen towards the
Naturhistorisches Museum
By that time, Maria-Theresien-Platz as well as two bordering museum buildings were already completed. The monumental buildings mirror each other; they have the same Neo-Renaissance design with large domes, a creation of the renowned German architect Gottfried Semper. The interior of the museums – designed by Carl von Hasenauer – is sumptuous, and features an abundance of marble stairs, statues and columns.
The building south of the square houses the Kunsthistorisches Museum (Museum of Fine Arts) and the building opposite is home to the Naturhistorisches Museum (Museum of Natural History).
Maria Theresa Monument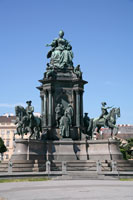 Maria Theresa
Monument
The area between the two museums is laid out with formal gardens that are decorated with statues, fountains and shrub beds.
At the center stands a colossal monument honoring empress Maria Theresa, who reigned for forty years. The monument, created in 1888 by Kaspar Zumbusch, shows Maria Theresa seated on top of a large pedestal supported on all sides by Corinthian columns. She is holding a scroll with the Pragmatic Sanction of 1713, an edict issued by Emperor Charles VI that allowed women to ascend the throne.
The empress is surrounded by some of her closest advisors. Four of her generals (von Daun, von Khevenhüller, Traun and von Laudon) are shown on horseback. Von Kaunitz, the chancellor of state, Van Swieten, her physician, Liechtenstein, director of the artillery forces and count von Haugwitz, who reformed the economy and strengthened central authority are shown standing near the pedestal.