Truly one of the grandest buildings in the city, Sydney's immense Town Hall is worth a visit, if just to admire the architecture.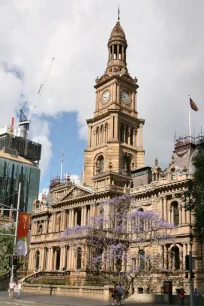 About the Building
Sydney's Town Hall, built in stages from 1869 to 1889, sits on ground that once served as the city's burial ground. Designed by Tasmanian architect J.H. Willson, work commenced on the ornate building after the graveyard, which contained some 2,000 bodies, was closed because it was "too offensive" to the inhabitants of Sydney. All the bodies were supposedly exhumed and moved before construction commenced, though city officials note a stray skeleton or two has been found in the area when there's an occasional need to dig!
Willson's design is very high Victorian. He modeled the Town Hall on Philadelphia's Second Empire-style City Hall. This style was very popular during the Victorian Era, and the two buildings are remarkably similar.
Made from local Sydney sandstone, the excessive ornamentation popular at the time eventually caused the Town Hall to be nicknamed "The Wedding Cake Building". (Some Sydneysiders of the twentieth century even thought it should be torn down!)
A procession of Architects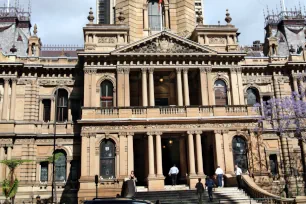 Willson's sudden death shortly after the project began prompted the hiring of a long string of architects, who each contributed something to the Sydney Town Hall. Albert Bond designed the mansard roof and vestibule interior. Brothers Thomas and Edward Bradridge were responsible for Town Hall's crowning glory, its clock tower, which upon completion and for decades afterward, was the tallest structure in Sydney. Thomas Sapsford designed Centennial Hall, also known as "The Great Hall".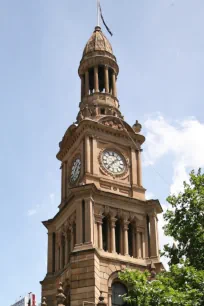 Inside Town Hall
Inside the Great Hall is an amazingly large pipe organ, which caused great concern as far as the sturdiness of the building materials in this room. Architects feared that ceiling panels would fall on patrons during concerts – caused by vibrations from the organ – so a special metal panel system was devised for the hall. It was an engineering marvel of its time.
Plans for the organ were conceived in 1879 but it wasn't installed until 1890. Built by William Hill and Sons, it was dedicated that same year and, ever since that time, Sydney has had a "City Organist" who is responsible for playing this beautiful instrument. After many years of wear and tear, the organ was rebuilt between 1973 and 1983 and free organ recitals are still held throughout the year.
The Town Hall was among the first buildings in Sydney to feature Australian flora as architectural decoration, and visitors to the hall can browse its magnificent stained-glass windows and try to recognize native flowers and animals. Be sure to see The Australia Window, located in the vestibule, and the equally breathtaking Captain Cook Window. The stair railings also feature native flora.