When the Strand opened in downtown Sydney in 1892, crowds rushed to the shopping center to get a look at the city's newest retail area, promised by its builders and designers to be bigger and better than anything built previously.
The Strand soon became THE place to shop or even just browse… as the city's finest citizens undoubtedly headed there to purchase clothing, jewelry, and a myriad of other items.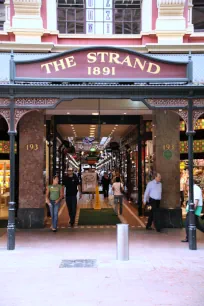 The Arcade
When the Strand Arcade was built at the end of the nineteenth century, it was proclaimed by local newspapers as "the finest public thoroughfare in the Australian colonies". Designed by English architect John Spencer, many saw this project as quite ambitious and maybe even unobtainable. Designed in the Victorian style, The Strand was to be 340 feet (104 meters) long and three stories high. Ornate cedar staircases were to be placed at either end of the structure.
Everything was modern and state-of-the-art. The roof was made of tinted glass and the lighting system a combination of gas and newfangled electric. Records show that even the toilets boasted the latest technology, and modern hydraulic lifts carried customers from floor to floor.
In the swinging 1920s, the basement of this grand building even housed an extravagant Sydney eatery, The Ambassadors Café, complete with 700-seat ballroom and a Palm Court for afternoon tea.
Thankfully, the building still maintains much of its original charm, though the gas lamps and the café are gone, and the stores have changed hands many, many times. It's survived a few depressions, two world wars, and the threat of fire twice. Still, it's a favorite gathering place for both locals and visitors and promises to remain standing for a long time.
The Shops
The Strand Arcade continues to be home to some of the finest stores in Sydney. The floors are logically organized so that most retail establishments of a particular kind are situated on one floor, with a few exceptions.
The lower ground floor (basement) of The Strand is where you'll find Sydney's largest duty-free shop, a favorite with tourists. Just above that, the ground floor offers products native to Australia, antiques and collectibles, menswear, and fine giftware.
A half-dozen coffee houses and gourmet specialty stores complete the collection of ground floor shops. The first level of The Strand is where you'll find the finest in women's fashions. Dubbed the Designer Fashion Gallery, the shops here feature clothing by hot Australian designers like Wayne Cooper and Alannah Hill. Level two is home to beauty salons, shoe and clothing alteration services, and a handful of women's stores. Jewelry stores are scattered throughout all three floors, as are a few unisex shops.