Situated in Sydney's Darling Harbour, the Australian National Maritime Museum is the most-visited museum of its kind on the continent. Dedicated to "opening new vistas on Australia's history and love of the sea", this museum is a hit with all ages.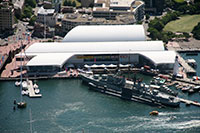 National Maritime Museum
Development of the museum began in 1984, and it opened its doors in 1991. Exhibition development centered around five display themes – Discovery, Passengers, Commerce, Leisure, and Navy. In addition, the USA funded a gallery of US-Australian maritime links as its gift to the nation for the 1988 Bicentenary celebrations.
Exhibitions
While there are some permanent exhibitions at the museum, many wonderful visiting exhibits come and go each year. One might find displays about particular kinds of ships, pictorial histories of Australia's role in the World Wars, or an exhibition of artwork related to the sea.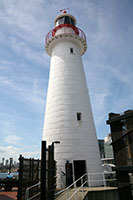 Lighthouse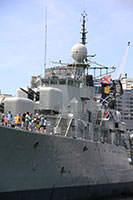 HMAS Vampire
There's also a children's interactive Viking Village, and a magnificent replica of Captain James Cook's discovery ship, the HM Bark Endeavour, is also on display at the National Maritime Museum.
A number of special educational programs are available to visitors. There's storytelling and an activity area for the little ones. For the adults, lectures and tours are offered on a variety of maritime-related topics. Special tours are available as well, centering on one particular section of the museum.
The museum's Welcome Wall is a tribute to the more than six million people who have crossed the world to settle in Australia. An internet database stores historical information about the people named on the Welcome Wall – when and how they came, who they came with and where they lived. These stories are also accessible on a computer terminal in the Museum foyer.
More than a dozen vessels are docked in the water outside the museum, ranging from a Russian submarine to a Norwegian lifeboat to a New Zealand racing cutter.
Visiting the Museum
Entrance to the main galleries of the museum is free. However, there is an additional charge for visiting the ships docked in the Darling Harbour and for any special events at the museum. A harbourside restaurant provides family-friendly fare to visitors, including scrumptious seafood dishes.