Darling Harbour is a large recreational area near Sydney's Central Business District. It is home to a large number of attractions, including some of Sydney's most popular museums.
History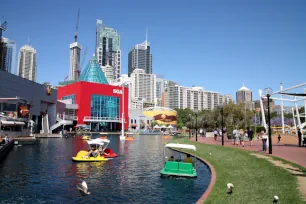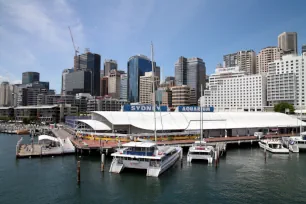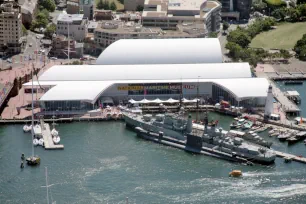 During the nineteenth century, Darling Harbour was Australia's largest seaport. Its first wharf was built in 1811 and the port prospered until the end of the Second World War. By then, Botany Bay had become Sydney's main port.
The lack of container terminals led to a significant decrease in commercial activity and by the 1970s Darling Harbour started to become dilapidated. In 1984 the government of New South Wales decided to redevelop the area and in 1988, during Australia's Bicentennial Celebrations, Queen Elisabeth II officially opened the renovated Darling Harbour.
Aquarium
The once industrial area is now a pedestrianized zone with plenty of hotels, restaurants and attractions. One of the most popular attractions in the area is the Sydney Aquarium. The aquarium – home to Australia's largest collection of marine animals – boasts a 145 meter (475ft) underwater tunnel from where you can see sharks, sting-rays and other fish up close.
Museums
There are also several popular museums in Darling Harbour: the National Maritime Museum, the Motor World Museum and the Powerhouse Museum.
The National Maritime Museum is dedicated to Australia's Maritime history. There are a number of permanent and temporary exhibitions covering subjects such as the arrival of the First Fleet, the immigration waves, indigenous seamanship and sea trade. There are several vessels at the museum; the largest is the Vampire, a destroyer built in 1952.
The Powerhouse Museum is an interactive museum housed in a former power station. It is essentially a science museum with a focus on technology. Exhibitions cover a wide array of subjects like space, design and computers.
The Motor World Museum and Gallery has a collection of almost 200 cars and motorcycles, ranging from Vauxhalls to a Model-T BP tanker and a Delorean.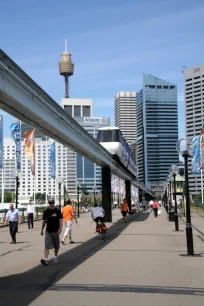 More Attractions
Darling Harbour is also home to the Sydney Convention Center, Star City (a hotel-casino), HarbourSide (a complex of shops, restaurants and cafés), an IMAX theatre and a beautiful Chinese Garden. Another attraction is Cockle Bay Wharf, an entertainment precinct developed in 1998.
Location
Darling Harbour can be easily reached. It is at walking distance from Sydney's Town Hall and Queen Victoria Building. The monorail has several stops in the area and connects Darling Harbour with Sydney's CBD.