The Queen Victoria Building (QVB) is a modern shopping center located in a magnificent nineteenth-century Neo-Romanesque building.
Construction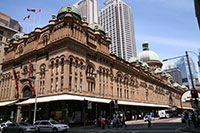 Queen Victoria Building
The QVB was originally built as the Queen Victoria Market and replaced an existing produce market. The building was designed by city architect George McRae and constructed between 1893 and 1898. At the time Sydney was in a deep recession and the government used the construction of this enormous building to employ a large number of craftsmen.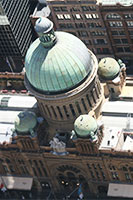 Central Dome
The elaborate building is decorated with stained-glass windows, wrought-iron balustrades, patterned floor tiles and large statues. Characteristic for the building are the glass roof over the central arcade and its many domes, one large and twenty smaller ones. The largest, central dome has a diameter of twenty meters and consists of an inner glass dome and an exterior copper dome topped with a cupola.
History
During the first half of the century, the Queen Victoria Building saw many occupants come and go. The original concert hall was turned into a library, and many commercial stores were converted into municipal offices.

Stained Glass Window
By the 1950s the Queen Victoria Building was threatened with demolition despite its magnificent architecture. Fortunately, plans to replace the fine building with a parking lot were finally abandoned in 1982 when the city council agreed to lease the QVB to the Malaysian firm Ipoh Garden Berhad for 99 years. Under the agreement, the government would create a car park under York Street and the Malaysian firm would restore the building.
The QVB Today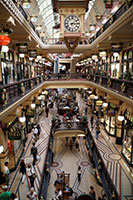 QVB Interior
Four years and A$75 million later, the Queen Victoria Building reopened as a shopping center. While the building was modernized with the installation of escalators and air conditioning, its historical restoration is exemplary. The tiled floors, stained-glass windows, balustrades and arches are all restored with an eye for detail.
There are four shopping floors in the building with in total about two hundred shops and boutiques, including retail covering fashion, jewelry, antiques and Australian crafts.