The Rocks, the site of Australia's first white settlement, is Sydney's most historic area. Its name was derived from the rocky sandstone soil found in this area.
Convict Settlement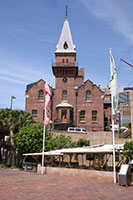 The Rocks
On 26 January 1788, six days after the First Fleet landed in nearby Botany Bay, captain Arthur Phillip decided to establish the new British penal colony here, at the Rocks in Sydney Cove. Convicts created permanent facilities and hacked streets out of the rocks. Argyle cut, a small tunnel through sandstone rock, was even hacked out with hand tools.
Unpopular
The area was never very popular with colonists, with convicts roaming the streets. It wasn't until 1819 before the first prison was created, before that time the hostile landscape was considered an adequate deterrent for convicts to escape. Outbreaks of diseases and gangs prowling the streets made the Rocks one of Sydney's most notorious areas during the nineteenth and early twentieth century.
Demolition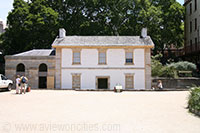 Cadman's Cottage
To contain a bubonic plague Sydney's government demolished parts of the area and with the construction of the Sydney Harbour Bridge in the 1920s another large section of the Rocks was razed. Plans in the 1960s to completely wipe the Rocks off the map and replace it with new hotels and shops were successfully thwarted by conservationists, who deemed the Rocks one of Australia's most important historic districts.
Redevelopment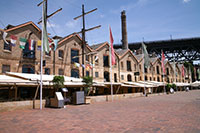 Campbell's Storehouses
Many old buildings have now been restored, and the area has been turned in one of Sydney's most popular tourist attractions. The historic buildings and charming streets give the Rocks a European flair. Specialty shops, galleries, restaurants and several museums have now settled in this area.
After being shunned for many decades, The Rocks are now a source of pride for Sydneysiders.
The Rocks Highlights
Cadman's Cottage: This sandstone cottage from 1816 is the oldest building in Sydney.
Susannah Place: A terrace of four brick and sandstone buildings dating back to 1844.
Campbell's Storehouses: These former storehouses are now home to a number of popular restaurants.
Museum of Contemporary Art: The museum is housed in a beautiful Art Deco building.
Sydney Harbour Bridge: Take the stairs at Cumberland Street and walk across the bridge for some great views.