Australia's Hyde Park, located in Sydney in the North South Wales section of the country, is named as such in tribute to London's Hyde Park.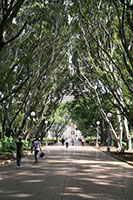 Hyde Park
This park is a pretty green oasis in the middle of the city; a place for local "Sydneysiders" to hang out at lunchtime and a bevy of activity on the weekends and in the summer months.
About the Park
The land where Sydney's Hyde Park now sits was once a racecourse and sporting ground, hosting all sorts of competitions year round. However, the park's sporting days are long gone and the only active pursuits you're likely to see these days are a father and son playing catch or residents and visitors enjoying a bike ride through the park.
Archibald Fountain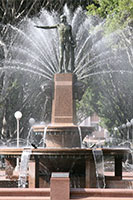 Archibald Fountain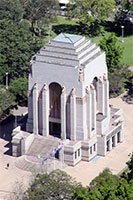 Anzac Memorial
The central pathway through the park is stunning, lined with beautiful fig-trees that provide a natural canopy for the walkway. In the very center of Hyde Park, visitors flock to the Archibald Fountain, commemorating the collaboration of France and Australia during World War I. Carved statues of figures from Greek mythology grace the fountain, which was named for John F. Archibald, founding editor of the Australian weekly newspaper, The Bulletin.
Anzac War Memorial
The War Memorial is the other centerpiece of this pretty park. Art Deco in style, this memorial serves as a tribute to the Anzac soldiers who died during World War I. The memorial stands above the Pool of Remembrance, and underneath the monument, there is a photographic exhibition about the war.
More War Monuments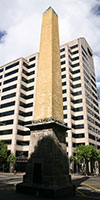 Obelisk
Near the Bathurst Street entrance on the west side of the park, you'll find a 125-foot obelisk decorated in Egyptian style. Yet another war monument, donated by the Independent Order of Oddfellows and dedicated to Sydney residents who died in World War I, can be found in Hyde Park as well. Another monument which boasts a gun from the German light cruiser SMS Emden is located at the Oxford Street entrance to the park.
For a little fun while you're enjoying the park, you can participate in a game of chess courtesy of the large play-able chess set that's located on the western side of the park.
Entrance to the park and all the monuments is free.