The Kungliga Operan or Royal Opera House is Sweden's premier stage for opera and ballet. It was built in the nineteenth century at the Gustav Adolf square, the site of Stockholm's first opera house.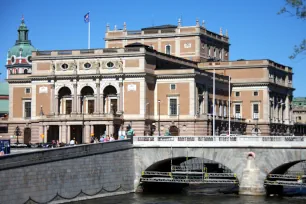 The foundation for the opera in Sweden was laid by King Gustav III, a playwright and patron of the arts. The first opera performances were held in 1773 in Bollhuset (Ball House), a former sports hall that was located near the Great Church at Slottsbacken.
The First Opera House
Stockholm's first purpose-built opera house is known as the Gustavianska Operahuset (Gustavian Opera House) after King Gustav III, who commissioned its construction. The opera house, designed by Carl Fredrik Adelcrantz, opened in 1782 after a seven-year construction period. The building's architecture was mirrored by that of the Arvfurstens Palace, erected ten years later across the Gustav Adolfs square.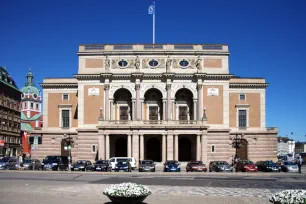 In 1792 the Opera House was the site of the assassination of King Gustav III, who was shot point-blank during a masquerade ball. This event was the inspiration for Verdi's Un Ballo in Maschera.
The Present Opera House
In the nineteenth century, after the Gustavian Opera House was demolished in 1891, a new theater was built at the site. The neoclassical building was designed by Axel Anderberg, who ensured its exterior was in harmony with the architecture of the nearby Royal Palace. The Opera House opened in 1898 with a performance of Franz Berwald's Estrella de Soria.
Interior
The theater building, with its grandiose neoclassical front facade adorned with statues, arches and Corinthian and Tuscan columns, is best known for its magnificent Golden Foyer. The twenty-eight meter (92 ft) long foyer is decorated with large crystal chandeliers, gold stucco and ceiling paintings by Carl Larsson. The design of the marble staircase leading to the foyer was based on the famous grand staircase of the Garnier Opera in Paris. The auditorium, which can seat close to twelve hundred people, has a magnificent chandelier and a large ceiling painting by Vicke Andrén.