The Dramaten, officially known as the Kungliga Dramatiska Teatern (Royal Dramatic Theater) is a magnificent marble theater building. No expenses were spared in the decoration of this Art Nouveau marvel.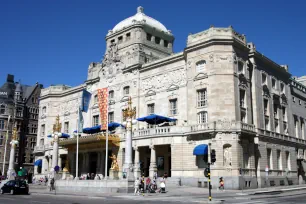 King Gustav III, nicknamed the 'theater king', founded the Royal Dramatic Theatre in 1788. Plays including some written by the king himself were performed at the Bollhuset, a hall at Slottsbacken near the Cathedral.
After this building was torn down in 1793, theater plays took place in the Makalös Palace near the King's Garden. The Dramatic Theatre finally got its own dedicated building when the Dramaten opened in 1908 after a six-year construction period with August Strindberg's 'Master Olof'.
Lottery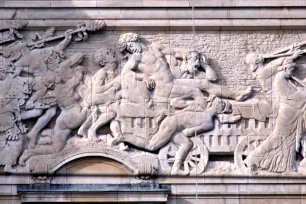 Plans for the present theater building at Nybroplan were made at the start of the twentieth century. Unable to obtain subsidies, the theater was forced to finance the construction by organizing a lottery. The lottery was such a success that architect Fredrik Lilljekvist could go all out and choose the finest materials and hire the best artists of his time to decorate the new theater building.
Architecture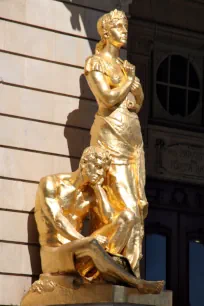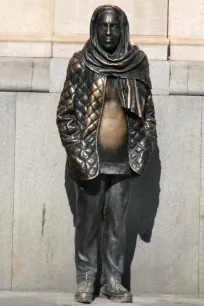 The result was a cost price double the original estimate, a sumptuous interior and a lavishly decorated exterior. The architecture was inspired by the Art Nouveau buildings that were popular at the time in Vienna. Ekeberg marble was used for the facade, which is adorned with a long relief of a festival in honor of the Greek god Dionysus, created by Christian Ericsson. Carl Milles was responsible for the central sculpted section of the facade. The gilded statues that flank the entrance of the Dramaten, sculpted by John Börjesson, are allegorical representations of Poetry and Drama.
Interior
Another gilded statue by John Börjesson, Tragedy, can be found in the foyer, together with the statue representing Comedy, created by Theodor Lundberg. Several more reputed artists, including Carl Larsson, Julius Kronberg and Prins Eugen, created magnificent wall and ceiling paintings. Georg Pauli painted the art in the café that was named after him.
The auditorium, with a seating capacity of just over eight hundred people, is sumptuously decorated with stucco and a ceiling painting by Julius Kronberg.
Statue of Margaret Krook
In front of the Royal Dramatic Theatre, near Nybrogatan, stands a sculpture of Swedish actress Margaret Krook, who died in 2001. Thanks to heating coils the bronze statue, created by Marie-Louise Ekman, has a constant temperature of 37 degrees, even during wintertime.