The Livrustkammaren, founded in 1633, is the oldest museum in Sweden. Its impressive collection of state coaches, royal clothes and armory is displayed in the basement of the east wing of the Royal Palace.
The museum gives an insight in the history of Sweden by displaying items related to important historical events. The oldest objects on display date back to the Vasa Dynasty, when ceremonial weapons and armor were collected in the Tre Kronor Palace. Starting in the early seventeenth century, clothes that marked historic events, such as a coronation or assassination, were also preserved. The collection of carriages was originally housed in the Royal Stables, and only moved to the Livrustkammaren in the late nineteenth century.
Armor collection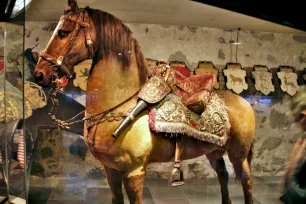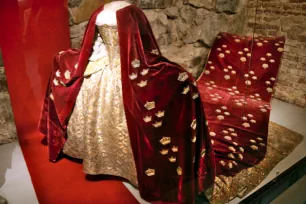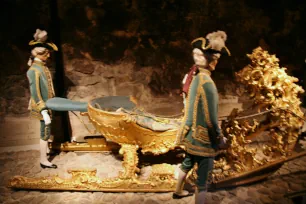 One of the highlights in the armor collection is the sixteenth century ceremonial armor of king Erik XIV, intricately engraved with royal emblems and mythical scenes. The oldest item is the helmet of Gustav Vasa, from 1548. You can also see a richly decorated saddle on a stuffed horse – Streiff – which was ridden by Gustav II Adolf when he was killed in the Battle of Lützen in 1632.
Costumes
The collection of royal clothes and costumes contains some of the museum's most interesting items, such as the uniform Charles XII was wearing when he was killed in battle in 1718 and the costume that king Gustav III had donned at the masked ball in the Royal Opera House, where he was assassinated in 1792. There are also some sumptuous coronation robes, such as those worn by king Adolf Frederick and his wife Louisa Ulrika in 1751.
State coaches
The museum's collection of state coaches is displayed in a cellar with atmospheric lighting. Here you'll find beautifully decorated carriages and even a royal sled. One of most luxurious carriages is the coach that was built in 1696 for king Charles XI and first used in 1751 by queen Louisa Ulrika of Prussia.