The Historiska Museet narrates the history of Sweden from the prehistoric times to the early sixteenth century through a series of fascinating displays with countless precious artifacts.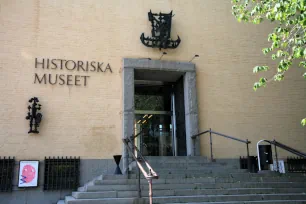 This is one of the best museums in Stockholm, and the displays of Prehistoric Sweden, the Vikings gallery, Medieval art, and the Gold Room are a must-visit.
The Museum
The history museum opened in 1943 in a plain, fortress-like building with a corner tower. It was designed by Swedish architects Bengt Romare and Georg Scherman, who were inspired by medieval buildings. The large bronze door and abstract sculptures at the entrance – created by Bror Hjalmar Marklund – were added in the 1950s.
Prehistory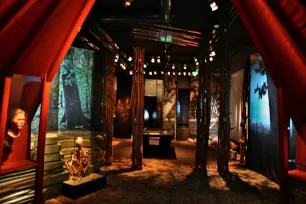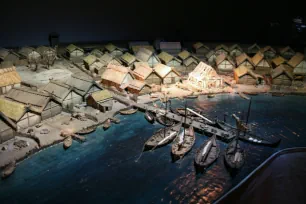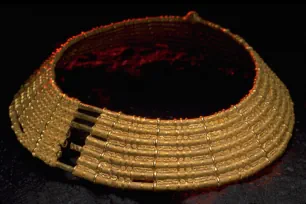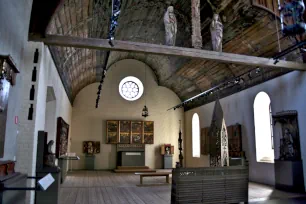 The Prehistoric galleries give an idea of the life that people were leading some thousands of years ago through the display of ancient artifacts, including utensils and weapons. Some items give an insight in daily life, such as dice in different shapes, drinking horns and even a two thousand-year-old cloak. Some displays note the interesting similarities between family life in prehistoric times and today.
Vikings
The History Museum was originally focused on the life of the Vikings, and this large gallery is still one of the museum visitor's favorites. More than four thousand artifacts – including jewelry, clothes, rune stones and weapons – illustrate the everyday life of the Vikings. A scale model shows Birka, Sweden's oldest city.
Gold Room
The most famous room in the Historiska Museet is the Guldrummet or Gold Room. The circular room – protected like a bank vault – was created in 1990 and contains the most valuable treasures of the museum, with about fifty kg of gold and two hundred kg of silver. Many of the jewels displayed here date back to Scandinavia's Golden Age, from around 500 to 1000 AD. Some of the most important treasures include three large gold collars and the Elisabeth reliquary, originally a chalice which was converted into a reliquary decorated with gold and precious stones to hold the skull of saint Elisabeth of Thuringia.
More exhibits
There are several more galleries on the first floor. The museum has an excellent collection of medieval art, with many relics and Gothic retables. A highlight is the Madonna of Viklau, a wooden painted statue of Mary from the early Middle Ages.
The Textile Room shows historic textiles from the Middle Ages, including garments used by priests and tapestry; the oldest one, a tapestry from a church in Skog, dates back to the thirteenth century. The adjacent Baroque Hall shows a collection of statues, ornately decorated altarpieces and other ecclesiastical objects.