Djurgårdsbron is the most beautiful bridge in Stockholm. The ornate iron bridge was built at the end of the nineteenth century and connects the mainland at Östermalm with the Djurgården island.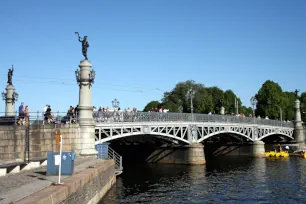 In the sixteenth century, Djurgården became a royal hunting ground when King Gustav Vasa confiscated the land from the Catholic Church. This is where its name – which can be literally translated as 'Animal garden' – comes from. After the island was opened to the public in the eighteenth century, it became a popular recreation area.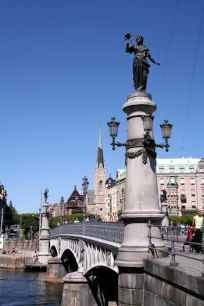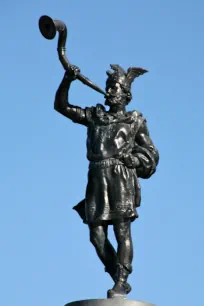 The 1897 Arts and Craft Exhibition
As soon as plans were made to host the Arts and Craft Exhibition of 1897 on the island of Djurgården, preparations were made to impress visitors by beautifying the surrounding area. Hence the existing iron bridge, the only connection with the rest of Stockholm, was demolished in 1895 to make way for a grander and more ornate bridge.
The new cast iron bridge with three spans was built in 1896 at the Bergsunds workshop in Södermalm. It was officially inaugurated in May 1897, just before the opening of the international exhibition.
Design
The 58-meter-long (190 ft.) and 18-meter-wide (59 ft.) bridge was designed by engineer Carl Fraenell in collaboration with architect Erik Josephson. The bridge is beautifully decorated. Each of the piers is adorned with a relief showing faces of sea monsters and festoons above a shield with a relief of Saint Erik – patron saint of Stockholm.
The deck is decorated with lampposts and four large pillars topped with statues of Nordic gods. The two statues on the side of Djurgården are Thor with his hammer, and Freya, goddess of love and beauty. The two statues on the side of Strandvägen depict Heimdallr, with his horn Gjallarhorn and Frigga, queen of Asgard and wife of Odin.