The Parliament of Andalusia is seated in a large sixteenth century complex. Originally built as a hospital just outside the historic city walls, it was converted and renovated in 1992 to house the parliamentary offices.
Hospital de las Cinco Llagas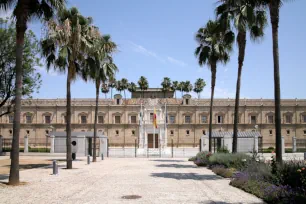 The Autonomous Parliament of Andalusia has its seat in a former hospital building, the Hospital de las Cinco Llagas (Hospital of the Five Wounds).
The hospital was founded in 1500 when Pope Alexander VI gave Doña Catalina Ribeira permission to set up a hospital in Seville. The hospital was originally located in a temporary building in the Calle Santiago near Casa de Pilatos. Catalina's son, Don Fadrique Enríquez de Ribera, the first marquis of Tarifa, decided to build a new hospital complex just outside the city walls near the Macarena Basilica.
The complex
Construction started in 1546 under the direction of Martín de Gainza, who had earlier collaborated on the construction of Seville's city hall. The vast complex, which wouldn't be completed until 1613, was built in a renaissance style. It is structured around a number of courtyards; originally nine, eight are left today.
At the center of the long south facade is a large portal, designed by Asensio de Maeda in a typical Spanish Baroque style. The portal leads straight to the hospital's church, which dominates the central courtyard. The church, built in 1560 by Hernán Ruiz the Younger, is now used for parliamentary meetings.
Parliament
The hospital was abandoned in the 1960s and stood empty for years until 1992 when it was restored to serve as the seat of the Parliament of Andalusia, which became an Autonomous Community of Spain in 1981. In front of the parliamentary building is a modern formal garden with a statue of Hercules, originally created for the Universal Exposition of 1992 in Seville.