The City Hall of Sevilla or Ayuntamiento is located between the Plaza de San Francisco and Plaza Nueva. It was built in the early sixteenth century in a local version of the Renaissance style.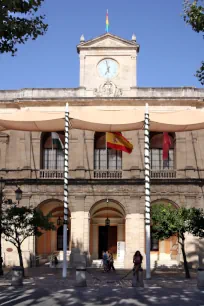 Council Meetings
In the fifteenth century, the twenty-four delegates of Seville that formed the city council gathered at the Plaza de la Virgen de Los Reyes near the foot of the Giralda tower.
After Seville obtained the monopoly on trade with the New World in 1503, it was decided that the city had become too important for the dignitaries to gather outside and plans were made to build a city hall. The location chosen for the building, then known as the Consistorial Palace, was the historic Plaza de San Francisco.
Construction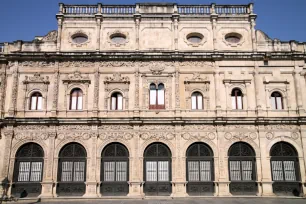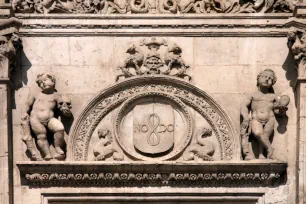 Construction of the city hall started in 1527 by Diego de Riaño and was completed seven years later. The facade of the building bordering the Plaza de San Francisco is magnificently decorated in a style known as Plateresque, a local version of the Renaissance style characterized by intricate architectural decorations.
The facade is adorned with mythical and historical figures, including Hercules – considered the founder of Seville – and Julius Caesar, who restored the city after defeating Pompey here. You can also find the symbol of Seville, no8do, above the magnificent elaborate door.
The east side of the building, facing Plaza Nueva, is less ornate. Neoclassical in style, it was created in 1891 when the city hall was expanded by architects Demetrio de los Ríos and Balbino Marrón.
Interior
The old portion of the city hall has some magnificently decorated rooms with sculpted ceilings and detailed woodwork. Gothic-Renaissance staircases connect the ground floor with the upper floor. Some of the most beautiful rooms include the Sala Capitular, the Sala de los Fieles Ejecutores, the Salón Colón and the Casa Consistorial which has a spectacular gilded ceiling. The rooms are decorated with paintings from artists such as Velazquez, Zurbarán and Valdés Leal.