Located in Golden Gate Park, San Francisco Botanical Garden boasts nearly 7,500 individual plants of varying kinds, including Mediterranean, mild temperate, and tropical cloud forest plants arranged in a variety of habitats.
Creation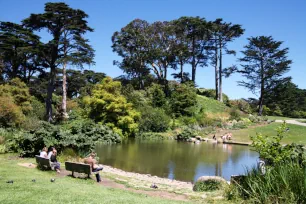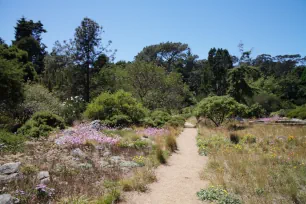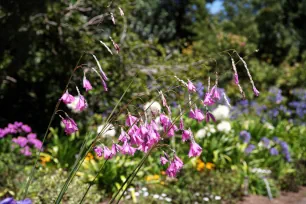 Originally designed in the 1890s by Golden Gate Park supervisor John McLaren, funds for the SF Botanical Garden were unavailable until the 1920s, when local socialite Helene Strybing willed funds to the city to get the garden under way. Planting finally began in 1937 and the arboretum/garden opened in May 1940.
The Garden
The best way to take a look at all the San Francisco Botanical Garden has to offer is to grab a map and take a leisurely stroll through its 55 acres (22 ha). You'll want to go slowly, so you don't miss a thing.
The area is divided into a number of thematic and geographical gardens laid out around a couple of open fields.
One group of gardens comprises the specialty gardens, which include the Primitive Plant Garden, the Succulent Garden and the Garden of Fragrance – intended for the visually impaired – with flowers chosen for their scent or leaf structure. The Moon-Viewing Garden features East-Asian plants, but in contrast with the nearby Japanese Tea Garden, the layout of the garden is informal.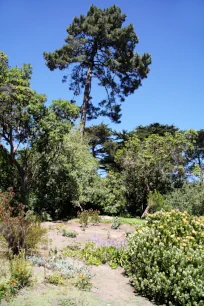 The Botanical garden also has a couple of 'cloud forests' – the Mesoamerican and Southeast Asian cloud forests – that can thrive here without a conservatory thanks to the foggy summer mornings in San Francisco, which provide enough moisture for the tropical plants to survive.
Some other highlights in the Botanical garden include the South Africa garden, with a diverse number of plants from the southern tip of Africa, and the native California garden, with one hundred year-old giant redwood Sequoia trees.
Visitors can also visit the horticultural delights of New Zealand, Chile, Eastern Australia or travel through a delightful collection of colorful rhododendron. There's also a lovely children's garden and a wildfowl pond for all to enjoy.