The largest and best known park in San Francisco is the 1,017-acre (411 ha.) Golden Gate Park. Its history goes back to 1870 when the site was an area of wild sand dunes. At the time, the area, known as 'outside lands', was well outside the city's developed limits.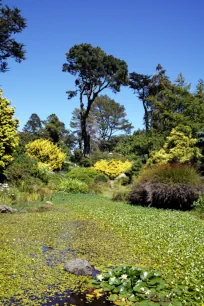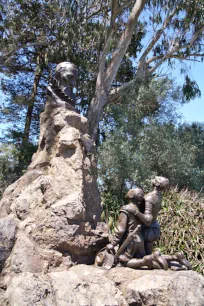 History
In 1870, William Hammond Hall, a civil engineer, was contracted to design the park. He was inspired by Frederick Law Olmsted, the creator of the Central Park in New York. He created a hilly park with a varying landscape of lakes, meadows, ridges and winding roads. To convert the sand dunes into a forested parkland, innovative sand reclamation techniques were used, and a dike was built to protect the park from the sea.
In 1871 William Hall was appointed as the first superintendent of the new park. He was succeeded in 1887 by John McLaren, a Scottish native. During the fifty-six years as superintendent of the park, he planted thousands of trees and converted the area into the park as we know it today.
Main Attractions
The main attractions of the park are located at the eastern side. Here you find the Conservatory of Flowers as well as the Japanese Tea garden and the adjacent M.H. De Young Museum.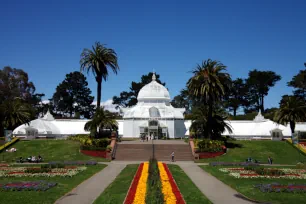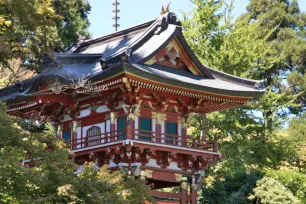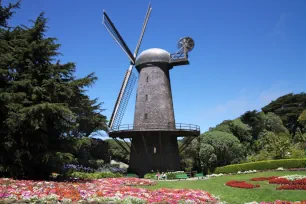 The Conservatory of Flowers, a Victorian-style greenhouse, is modeled after the Palm house at the Kew Gardens in London. It was built between 1876 and 1883 and houses a collection of tropical plants and flowers.
The M.H. De Young Museum has its origins in the 1894 Midwinter International expo. The Fine arts Museum, temporarily built for the expo, was so successful that it was decided to establish a permanent museum. The museum has a very diverse collection, including paintings from the Laurance Rockefeller collection.
Another remnant from the 1894 expo is the Japanese Tea Garden. Following the success of the expo's Japanese village, a Japanese Tea Garden was constructed to display the Japanese lifestyle. The garden, covering five acres (two hectares), features a teahouse, sculptures, ponds, bridges and many native Japanese plants.
Other Attractions
The Golden Gate Park has many more attractions including the Buffalo paddock, a rose garden, the Steinhart aquarium and the Botanical Garden. At the north-west corner of the park, there's even a Dutch garden, complete with an authentic windmill. The park is also popular for its sports facilities which include tennis, pétanque, golf, fly-fishing, biking, inline skating, archery, handball and horseback riding. On weekends, the meadows in the park are used by many visitors as picnic grounds.
The Golden Gate Park is located between Haight-Ashbury and the Pacific Ocean in downtown San Francisco. It attracts more than twelve million visitors yearly.