The Victorian Age – the second half of the 19th century – was San Francisco's hey-day. The city prospered and grew into the largest city west of Chicago. The affluent built elegant Victorian mansions at Pacific Heights and Nob Hill; some of these wooden buildings resembled small palaces.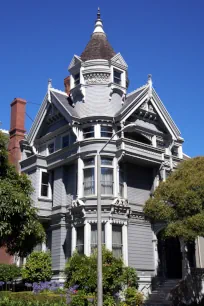 1906 Fire
A fire triggered by the catastrophic earthquake of 1906 caused an area of 15 sq. km. (3,700 acres) to go up in flames. The wooden Victorian mansions on Nob Hill all burned to the ground, but fortunately most of Pacific Heights escaped the fire.
The Haas-Lilienthal House
One of the Victorian buildings that survived the aftermath of the 1906 earthquake is the Haas-Lilienthal House. With twenty-four rooms and a surface of approximately 12,000 sq. ft. (1,100 sq. m.) this was considered an average house for this area.
The house was built in 1886 for William Haas. Haas was born in Bavaria, Germany, and emigrated to New York in 1865. He eventually ended up in San Francisco, where he became a successful entrepreneur. His daughter Alice, who married Samuel Lilienthal, lived here until 1972, when the building was donated to the San Francisco Architectural Heritage Foundation.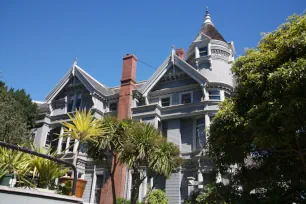 The house is a nice example of the then very popular Queen Anne style. Characteristic for this style is the round tower and the asymmetrical layout of the building.
Haas-Lilienthal Museum
The Haas-Lilienthal House is now a museum. The one-hour tour, led by a volunteer of the Architectural Heritage Foundation, gives a good insight of how the well-off used to live, especially since all the furniture is authentic. Photos on the lower floor illustrate the history of the building and many other Victorian mansions. For more information on the tour, check out San Francisco Architectural Heritage Foundation's website.