Originally one of five octagonal houses in San Francisco, the McElroy Octagon House is a quirky architectural gem. Octagonal houses were popular in the nineteenth century; some believed they were healthier than common rectangular buildings.
About the House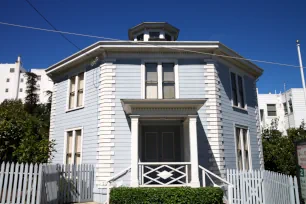 San Francisco's Octagon House was built in 1861 by William McElroy. An eight-sided structure with a cupola on top, it is said that McElroy and others of his era chose to build a house in this shape because it was believed that living in an octagonal home resulted in a longer, healthier life – sort of a nineteenth-century feng shui.
The house served as a private home for several decades, then remained empty until it was purchased in 1951 by the National Society of Colonial Dames of America in California. The society, headquartered in Washington, D.C., promotes national heritage through historic preservation and educational projects and runs several museums throughout the country.
The Colonial Dames moved the Octagon House to the opposite side of the street onto a vacant lot and restored the home to its original grandeur, though some argue that many of the renovations weren't done according to original specifications.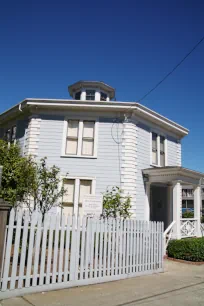 In 1968, Octagon House was designated a Historical Landmark by the City of San Francisco, and was placed on the National Register of Historic Places in 1972.
The Museum
Today, guests can visit the Octagon House on selected days. The small museum allow patrons to view a variety of decorative arts from the Colonial and Federal periods, as well as documents from Colonial and early American history, including one signed by 54 of the 56 signers of the Declaration of Independence.
Tours of the museum are free, but donations that go towards the upkeep of the home are much appreciated. Group tours are available with reservations.