The Rudolfinum, a magnificent Neo-Renaissance structure, was built in the nineteenth century as a House of Artists. Today it is home to the Czech Philharmonic Orchestra.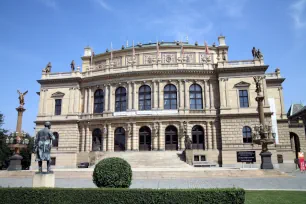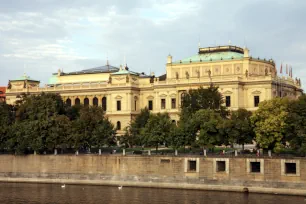 The Rudolfinum is one of three majestic buildings facing Jan Palach Square. The other buildings are the Faculty of Philosophy, to the left, and the Academy of Arts, opposite the Rudolfinum.
Highlight of Neo-Renaissance
Czech architects Josef Zítek and Josef Schultz built this magnificent structure along the Vltava river, at a prominent location near the Charles Bridge.
Constructed between 1876 and 1884, the Rudolfinum is considered one of Prague's best examples of Neo-Renaissance architecture, on equal footing with the National Theatre, built by the same architects. The interior is marvelous; its large Dvořák concert hall is known as a highlight of nineteenth-century architecture. The organ, built by the firm Rieger-Kloss, dates from 1975 and replaced the original Sauer organ. Behind the Dvořák hall is a smaller concert hall for chamber music.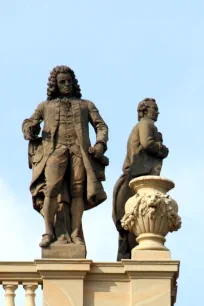 A balustrade atop the cornice is adorned with statues of composers, sculptors and artists from across Europe including Bach, Beethoven, Mendelssohn, Mozart, Bramante, Brunelleschi and Donatello.
Occupants
The building was named after the Habsburg crown prince Rudolf, son of Emperor Franz Jozef, who committed suicide in 1889. Originally, the building was designed as an art gallery and artist house, hence the Rudolfinum is also known as the House of Artists. Between 1918 and 1939, during the First Czechoslovak Republic, the building was even the seat of the Czech parliament. Since 1946 it has been the home of the Czech Philharmonic Orchestra, although the building still houses a gallery with modern art.