Despite its plain Gothic facade, the Kostel svatého Jilji (Saint Giles' Church) is best known for its magnificent Baroque interior, in particular the large frescoes that decorate the ceiling.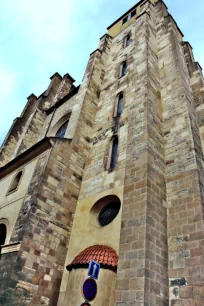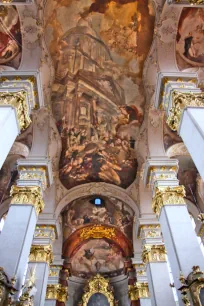 History
Construction
As early as in the 13th century, there was a church here on Husova, one of the narrow streets in Prague's Old Town. Only the foundations of this Romanesque structure remain.
The church that we see today goes back to a reconstruction that started in 1339. The driving force behind the new church was Jan IV. z Dražic, then bishop of Prague, who had lived for eleven years in Avignon, France, where he had become an admirer of the French Gothic architecture style. The church, which features two towers and three aisles, was inaugurated in 1371, in the presence of King Charles IV.
The Dominicans
As a result of the Protestant defeat of 1620, King Ferdinand II handed the church over to the Catholic Dominicans in 1625. They built a large monastery next to the church. The Dominicans were expelled after the Communists took power in 1948, but after the Velvet Revolution of 1989, which ended Communist rule, the church and monastery were handed back to them.
Interior
In 1733 the Dominicans commissioned architect Václav Špaček with the complete renovation of the interior. He turned the church into a prime example of Baroque extravagance.
The main highlight is the collection of magnificent frescoes that decorate the vaulted ceiling of the nave. They were created by Václav Vavřinec Reiner, who lies buried in front of the altar of St. Vincent. The main fresco shows «The Triumph of the Dominican Order over Heresy». Another fresco depicts the legend of Saint Giles, to whom the church is dedicated. He was a French hermit whose only companion was a hind. When the king's hunters chased the hind, an arrow aimed at the hind struck the hermit's foot, which rendered him crippled. This is how he became the patron saint of disabled people.
There are also several noteworthy altars in the church, most notably the main altar, which is decorated with elaborate wood carvings from local sculptor Ignác František Weiss. The central painting depicting «The Crucified Christ venerated by Dominican saints» is the work of the Bohemian painter Antonín Stevens.
Another altar of note is the Altar of St. Wenceslas, who reigned over Bohemia from 921 until his death in 935. His painting is another work of Václav Vavřinec Reiner.