Crusaders' Square is a small but picturesque square near the Old Town side of the Charles Bridge. It is surrounded by historic buildings, most notably the Old Town Bridge Tower.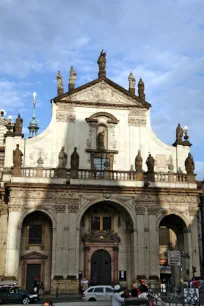 The Crusaders' Square (Křižovnické Náměstí, also translated as Knights of the Cross Square) is often teeming with tourists on their way to the famous Charles Bridge. Most people don't pay much attention to the square, as they are fixated on the view towards the bridge and the Vltava river.
Statue of Charles IV
In the middle of the square stands a large bronze statue of the Holy Roman Emperor Charles IV. The statue was created in 1848 on the occasion of the five hundred year anniversary of the founding of the Carolinum (Charles University) by Charles IV. The monarch is shown holding the deed of foundation of the university in his right hand.
St. Saviour Church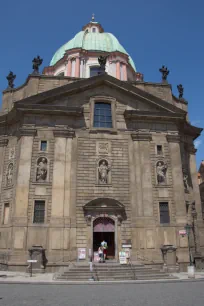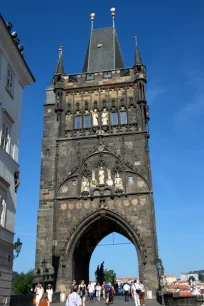 To the east, opposite Charles Bridge, Crusaders' Square is bounded by the sv. Salvátor (Church of St. Saviour), built between 1572 and 1602 by the Italian architects Francesco Caratti and Carlo Lurago. The St. Saviour was the first Jesuit church in the city, and it was part of the Clementinum, a large Jesuit college.
The church was designed in Renaissance style with Rococo decorations and a large Baroque portal. The towers, designed by Czech architect František Maximilán Kaňka, were added later, in the eighteenth century.
St. Francis Church
Another church, the sv František z Assisi (St. Francis of Assisi Church), borders Crusaders' Square on the north side. The domed church was built between 1679 and 1689 after a design by the French architect Jean Baptiste Mathey. The Baroque interior is well worth a visit; highlights include a large dome ceiling painting of the 'Last Judgment' by Wenzel Lorenz, beautiful stucco and several altar paintings. The famous Czech composer Antonín Dvoŕák worked here as an organist.
Old Town Bridge Tower
The crowning piece of Crusaders' Square is the Old Town Bridge tower, a magnificent Gothic tower built in the fourteenth century as a gate to the Charles Bridge. The tower was designed by Peter Parler as part of Prague's defensive fortifications and is decorated with statues and ornaments.