Parc Montsouris is a large romantic park that is typical of many that were designed during the nineteenth century. The park is bisected by a rail track with bridges connecting either side.
History of the Park
Parc Montsouris
Located in Paris's 14th arrondissement, the fifteen-hectare (37-acre) Parc Montsouris was created by landscape architect Adolphe Alphand, as part of the city's transformation by Baron Haussmann, a French civic planner of the nineteenth century.
Situated at the southern edge of Paris, Parc Montsouris was built at the site of a former granite quarry. The park is a romantic park in English style, much like Alphand's Parc des Buttes-Chaumont at the north side of Paris, albeit this one is less spectacular.
What's There?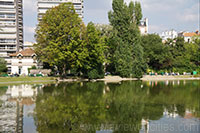 The park's lake
Basically, Parc Montsouris – the second-largest park in Paris proper – is a lovely open green space that is suitable for walking, jogging, or just relaxing in the sun. Park gardeners note the presence of about 150 species of trees and shrubs, and there is also a small lake with its own tiny island. It attracts a variety of migratory birds and is a great bird-watching location.
Parc Montsouris is also very much a place to enjoy great displays of public art. Sculptures date as far back as the mid 1800s, with the most recent being crafted in 1960. Most are done in either bronze or marble and are strategically placed in different sections of the expansive park.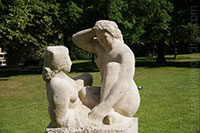 One of many sculptures
in the park
Several playgrounds are located onsite and are favored by young visitors, who also enjoy the park's puppet theater. A train track cuts right through the park. However, this is hardly noticeable thanks to Alphonse Alphand, who created a sunken trackway lined with pine trees. Two bridges connect either side of the park. Thanks to the presence of the track, Parc Montsouris is easily reached by train, as the Cité Universitaire stop of the RER train is literally located inside the park.