As the name suggests, this unusual building once hosted grand circus productions for all of Paris to enjoy, even at winter times. The tradition continues each January.
Cirque History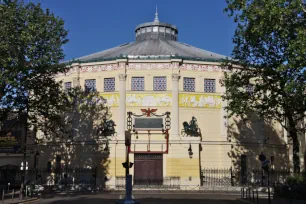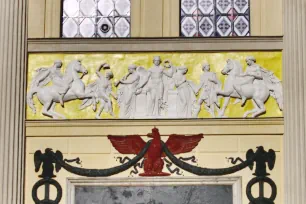 Cirque d'Hiver, built in just eight months and opened in 1852, was originally christened Cirque Napoléon in honor of Emperor Napoleon III. Located in the 11th arrondissement, the current name of the structure was bestowed upon it in 1870 and translates to "Winter Circus".
The building was originally built to house circus shows, and several great French artists found their inspiration there while watching astounding performances, especially Henri de Toulouse-Lautrec and Georges Seurat.
Through the years, however, the building has hosted much more than just circus events. It was often a venue for classical music concerts and was well known as the place where the famed French conductor of the nineteenth century, Jules Étienne Pasdeloup, held his "Concerts Pasdeloup", which introduced new French music of that era to the people of Paris.
Cirque d'Hiver was also a venue for numerous Turkish wrestling events, dressage and other equestrian demonstrations, and even fashion shows. It was also a cinema and, in addition, the venue rose to fame in a cinematic production in which it was featured – Trapeze – filmed in 1956 and starring Burt Lancaster and Tony Curtis.
About the Building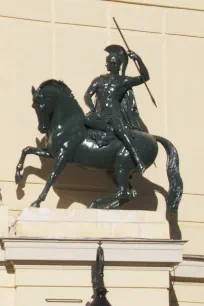 Cirque d'Hiver appears to be circular in shape, but it is actually a twenty-sided polygon. Each angle sports a Corinthian column on the outside. The low-angled roof seems to resemble the top of a circus tent, however, it is self-supporting and there is no central pole or other poles to obstruct the audience view.
The designer of Cirque d'Hiver was Jacques Hittorff, who created another circular building at the Champs-Elysées (Cirque de l'Impératrice) and later designed the Gare du Nord. He also redesigned the Place de la Concorde. Sculptor James Pradier fashioned the bas-reliefs on the outside, featuring Amazonian figures, and there are two equestrian statues near the entrance, one of them an Amazon.
Inside, the theater-in-the-round, with one center stage, boasts plush red velvet seats that can accommodate up to 1,650 audience members.
The Cirque Today
While it's always a treat to visit this building and photograph its grandeur, the best time to head to Cirque d'Hiver is in January when it plays host to the combined Festival Mondial du Cirque de Demain and Festival Mondial du Cirque de l'Avenir. Initiated in 1977, the festival showcases modern circus acts from around the world and has launched many new circus stars.