The Arc de Triomphe du Carrousel is the smallest of the three arches on the Triumphal Way, the central axis between the Louvre and La Défense. The arch is crowned with a bronze chariot.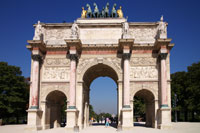 Arc du Carrousel
The other two arches are the Grande Arche de la Défense and the Arc de Triomphe de l'étoile, the most famous of the three. Like the latter, the Arc du Carrousel was commissioned by Emperor Napoleon in 1806 to commemorate his Austrian victories and honor his grand army.
Construction
The Arc du Carrousel was built from 1806 to 1808 at a site between the Louvre and the Palais de Tuileries. This palace was destroyed in 1871 allowing an unobstructed view west towards the Place de la Concorde.
Design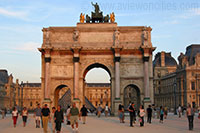 The design of the triumphal arch was based on the
Arch of Constantine
in
Rome
. The arch has three archways; the largest, central one is 6.5 meters or 21 feet high. The whole structure measures 19 meters (63 ft.) in height and 23 meters (75 ft.) in width.
Statues
On top of the arch were four gilded bronze horses taken by Napoleon from St. Mark's Square in Venice. The statues were returned to Venice after Napoleon's downfall at Waterloo.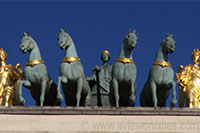 The four bronze horses
In 1828 a bronze quadriga pulled by replica versions of the horses – created by François Joseph Bosio – was installed as a replacement.
Originally a statue of Napoleon was supposed to be put in the chariot, but he rejected the idea, so the chariot stayed empty until the restoration of 1828 when an allegorical figure took the place of the emperor. It is flanked by statues symbolizing Victory and Peace.
Bas-reliefs
Bas-relief detail
The eight marble Corinthian pillars are topped with statues of soldiers from Napoleon's army. And in true Roman fashion, the arch contains several bas-reliefs depicting the story of his military campaign. The bas-reliefs were removed by the allied army in 1815, but they were put in place again in 1830.