Named for the Roman God of War, Champ de Mars is a long stretch of grass bordered by laid-out gardens. Located between the École Militaire and the Seine River, the open area offers a magnificent, uninterrupted view of the Eiffel Tower.
Park History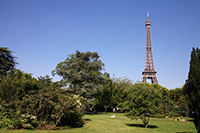 Parc du Champ de Mars
Located in the 7th arrondissement, the area that is now Champ de Mars was, in the sixteenth and seventeenth centuries, a garden area where vegetables and grapes grew.
By the eighteenth century, however, it had become a training ground for the adjacent École Militaire, a military academy where cadet officers of poor aristocrat families were trained in the art of war. A young Napoleon was a student here between 1784 and 1785. The park was now closed off by a fence and soon became known as Champ de Mars because of the war training maneuvers that took place there, featuring as many as 10,000 men at a time.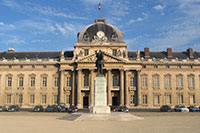 Ecole Militaire
At the end of the eighteenth century, the terrain began to be used as a site for festivals and other celebratory occasions. The first was the Celebration of the Federation, held in 1790 when King Louis XVI accepted the new written constitution. The Duke of Orleans was married there in 1837. Later, the area served as a horse track and has been the site of all but one of Paris' World Exhibitions. One of these exhibitions, the Exposition Universelle of 1889, led to the construction of the Eiffel Tower.
Park Facts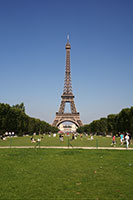 Eiffel Tower seen
from Champ de Mars
The Champ de Mars originally measured 42 hectares (about 103 acres), but for the 1890 World Exposition, architect Jean-Camille Fromigé redesigned the park and reduced its size. It was redesigned yet again in the early twentieth century to its current size, about 24.5 hectares (approximately 60 acres).
Champ de Mars stretches all the way from the Seine River to École Militaire, still in use today as a military academy. The central feature of this open park is the Eiffel Tower, Paris's iconic landmark. On the other end of the park near the military school, visitors can view the Monument to Peace, constructed in 2000. This ultra-modern memorial was created by Clara Halter and architect Jean-Michel Wilmotte. It consists of 32 columns and two glass structures with the word "peace" written on them in 32 languages and 18 alphabets.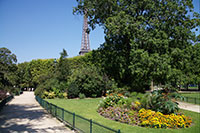 Parc du Champ de Mars
This park is a popular gathering place for many, and it's not unusual for visitors to enjoy a picnic there. Along the stretch of grassland are some pretty laid out gardens with scrubs and flowerbeds, especially near the Eiffel Tower, where you'll also find a couple of ponds. There are also playgrounds for children and plenty of space for enjoying other active pursuits.
Champ de Mars is also the site of the annual Bastille Day festivities, which include a gala fireworks display.