Situated at the site of the former Citroën automobile plant, Parc André Citroën is a true urban park with a post-modernist slant.
The Park's Design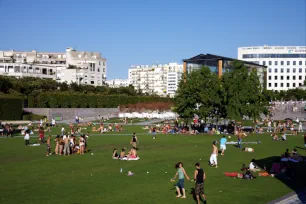 The fourteen-hectare (35-acre) park named for the famous French automaker has been a lesson for many in the building of a fine urban park, though some find it too formal. Indeed, the French spent lots of money on this pretty green area, and it's been a hit with both locals and visitors.
The park sits on the banks of the River Seine and entices visitors to come and play, stroll, or just sit a while. Its design is based on four themes: artifice, architecture, movement and nature.
The centerpiece of Parc André Citroën is two very modern greenhouse pavilions – fashioned from suspended glass walls and wood frames – separated by an attractive paved area complete with dancing fountains. Children love to play here, even though signs ask them not to do so. But who can resist the cool water on a hot Paris day?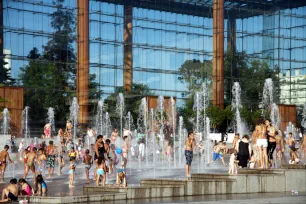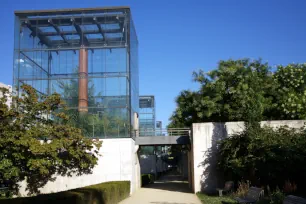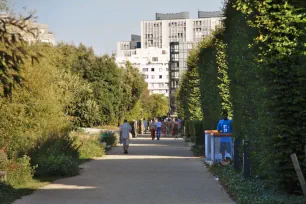 The Gardens
The White Garden is meant to be an area for fun and relaxation. The only area where dogs are welcome, this pretty portion of the park also has a playground, and it's not unusual to find a few people playing catch or Frisbee here.
Opposite the White Garden in both mood and placement is the Black Garden. The plants here boast dark foliage and flowers and this portion of the park is meant to evoke peace, having become a place for visitors to sit quietly and read a book or rest in the middle of a weary day.
The Changing Garden is exactly as the title indicates. The mood of this portion of the park changes with the seasons, as do the flowers and other horticultural delights planted here.
Les Jardins Seriels are said to represent each of the five senses plus the "sixth sense" – intuition – and a different color and theme is dominant in each section of these "Serial Gardens". For example, the Scent Garden contains particularly fragrant flowers, while the Taste Garden is full of fruit-bearing trees.
Finally, the Garden of Movement is in direct contrast with the other more symmetrical parts of André Citroën. Here, plants grow where they wish, there is no particular theme, and visitors may move around wherever they'd like (with respect for the plants, of course). Plants are never pruned and pretty much grow untamed.
Visiting the Park
Parc André Citroën is located in the 15th arrondissement, south of the Eiffel Tower. It opens around dawn on weekdays (later on weekends) and remains open until around 6 pm, with some exceptions.