Granted official New York City Landmark status in 1993, the magnificent Waldorf-Astoria Hotel has been beckoning guests to come and enjoy the opulence of the Big Apple since 1931.
The Hotel and its History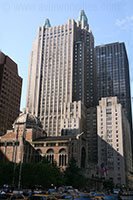 Waldorf-Astoria
The current Waldorf-Astoria, which sits on posh Park Avenue between East 49th and 50th Streets, wasn't the first hotel to bear that name. The original hotel (at Fifth Avenue and 33rd) was actually created by a merger of two separate hotels, built by cousins William Waldorf Astor and John Jacob Astor IV. Each had erected their own luxury hotel in the early 1890s, adjacent to one another. In 1897, the two buildings were joined by a corridor, thus the "=" symbol in the new official name of the hotel – The Waldorf=Astoria. The use of the double hyphen was discontinued in 2009.
The Astor cousins' hotels were demolished in 1929 to make way for the engineering marvel known as the Empire State Building. Eager to stay in the hospitality business, the cousins chose the present Park Avenue site for their next endeavor.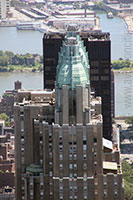 View from
Rockefeller Center
At its opening in October 1931, in the middle of the Great Depression, the hotel was the largest and tallest in the world, occupying an entire city block. U.S. President Herbert Hoover even delivered a radio broadcast commemorating the opening of the hotel and congratulating its owners.
Architecture
The Waldorf-Astoria is one of the most magnificent Art Deco masterpieces in the world. The base of the hotel is of granite facing and the upper facade is clad in brick and limestone. The main building consisted of twenty floors, while the two towers soar to forty-seven stories, about 190 meters (approximately 625 feet) high. Bronze-clad cupolas sit atop the towers.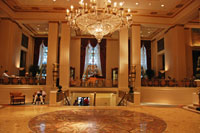 Lobby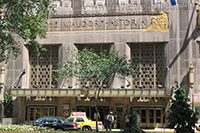 Waldorf-Astoria Entrance
Built at a cost of $42 million, the 2,200 rooms of the hotel were (and still are) opulent and expensive. The multiple lobbies in the building are decorated with intricate murals and mosaics. A $200 million renovation completed in the late 1990s unveiled yet more lost art deco treasures, now occupying their rightful places throughout the hotel.
The hotel's Starlight Room, known as a gathering place for the rich and famous in the 1930s and 1940s, boasted a retractable roof. The main ballroom is four stories high and can be adjoined with other smaller ballrooms to accommodate up to six thousand guests.
Famous Firsts
The Waldorf-Astoria prides itself on its famous firsts. For example, it was the first hotel to offer room service and to abolish the "ladies' entrance". It was also the first to have assistant managers canvassing the lobbies, offering help to guests, and was the first hotel to offer permanent living spaces in its suites. As a matter of fact, a number of celebrities and three American five-star generals have called the Waldorf-Astoria home.