Built as the corporate headquarters for Canadian distillers Joseph E. Seagram and Sons, the innovative Seagram Building set the stage for the design of New York skyscrapers for many years to come.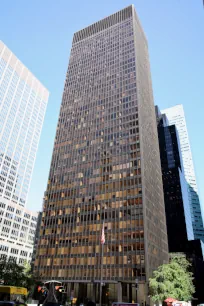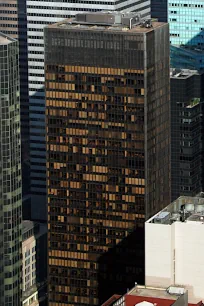 Situated on New York's famed Park Avenue between 52nd and 53rd Street, the Seagram Building was a pioneer in its time. Designed by well-known German architect Ludwig Mies van der Rohe in collaboration with American Philip Johnson, this building was to become a model for the next forty years of NYC skyscrapers.
Architecture
Most skyscrapers in the 1950s and prior had a decorated facade built around a structural frame. However, van der Rohe was hoping for a different look. He wanted the building's structural elements to be visible. Unfortunately, building codes forbid that, demanding that all structural steel be covered with some sort of fireproofing material, usually concrete.
So, instead, the architect used non-structural, bronze-toned I-beams to suggest structure to those viewing the 38-story, 516-foot (157 m.) skyscraper from the outside. These beams are visible from the outside of the building, and run vertically like mullions in the large glass windows.
Mies van der Rohe was also quite concerned that the building look uniform to those viewing it from the outside. Because of that, he only installed window blinds that sat at three levels: fully open, half open, and fully closed – allowing for a more consistent look.
Masterpiece
The Seagram building fulfilled Mies van der Rohe's functional architecture philosophy of 'less is more'. It is considered by many, including van der Rohe himself, as his masterpiece.
An Expensive Building
Seagram spared no expense in the building of this particular skyscraper. It is said that 3.2 million pounds of bronze was used in its construction, and the liberal use of materials like marble and travertine also caused building costs to escalate. It was the most expensive skyscraper of its time, costing a total of $41 million, including the $5 million cost of the building parcel.
The Plaza
One of the innovations of the Seagram building was the addition of its open granite plaza in front of the skyscraper, which was a different way of tackling the zoning regulations of 1916. Formerly, architects would design 'stepped-pyramid' highrises to circumvent the height restrictions put in place by those zoning regulations. The plaza became a popular gathering place during the Seagram Building's early years. Because of that, New York City passed a zoning resolution in 1961 in an attempt to entice builders to install "privately owned public spaces" like the one at the Seagram's Building.