This unique museum, which has occupied several locations, pays homage to the buildings that give the city of New York its unique appearance.
History of the Museum
Raymond Hood's
1929 proposal
for New York
The Skyscraper Museum, now located in the Battery Park neighborhood of Lower Manhattan, got its start in 1997 with a display called "Downtown New York", located in a vacant bank building on Wall Street. The following year, it took up headquarters at the Bankers Trust Building, also on Wall Street, and then in 2000 moved to a location on Maiden's Lane, not far from the World Trade Center. That location closed in 9/11/2001 and was commandeered as a headquarters for emergency operations during the World Trade Center tragedy. During that time, the museum enjoyed temporary quarters on Broad Street.
In 2004, the Skyscraper Museum finally found a permanent home in a building at the southern tip of Battery Park City, a building it shares with a luxury hotel and a 38-story condo tower. The museum's architect is the well-known architectural firm of Skidmore, Owings, and Merrill, with Roger Duffy as lead architect.
Ultra contemporary in design, the museum features polished stainless steel floors and ceilings and display cases that soar from the floor to the ceiling. Artist James Turrell designed a "Light Box" that serves as the entrance to the museum.
What You'll See
The 5,000-square-foot (464 square meters) Skyscraper Museum is small as far as New York museums go, but for the lover of architecture, it can be quite fascinating.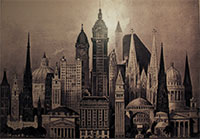 The Singer Building compared
to famous monuments
Permanent exhibits at the museum include "Manhattan Mini Models", a display of two highly-detailed, hand-carved miniature wooden models of Downtown and Midtown Manhattan, donated to The Skyscraper Museum in 2008 by Mike Chesko, an amateur model maker from Arizona. There's also an exhibit of maps and photographs of Manhattan through the years, allowing visitors to track the extent of building in the city.
Temporary exhibits are also set up from time to time and the Skyscraper Museum also presents special programs for the public including book talks, videos, public art tours, and more. An on-site gift shop offers prints, photographs, architectural books, and some kitschy souvenirs as well.