In the late 1970s, an area that was once part of the Hudson River became a vibrant neighborhood at the tip of Manhattan.
How Battery Park City was Formed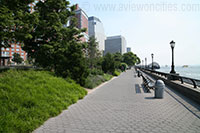 Waterfront
By the late 1950s, due in part to the growing popularity of air transportation, the shipping piers in Lower Manhattan's port area had become largely dilapidated. In an effort to revitalize that part of the city, local government began to consider ways to better use the space.
By the 1960s, ideas emerged to build a 90-acre planned community near the city's busy financial district and architect Wallace K. Harrison called for a "comprehensive community consisting of housing, social infrastructure and light industry".
Funding began in 1972 and during the next few years, existing piers were buried and 1.2 million cubic yards (917,000 cubic meters) of dirt and rocks excavated during the construction of the World Trade Center and other smaller projects was used to build Battery Park City (BPC), named for the nearby park.
What's There?
The 'Upper Room'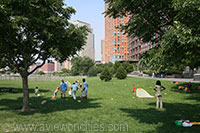 Nelson Rockefeller Park
Three sides of Battery Park City – owned and managed by the Battery Park City Authority, a public-benefit corporation created by New York State – are surrounded by the Hudson River estuary. Strangely enough, on the east side of the development, you'll find West Street, which separates Battery Park City from the financial district.
Currently, BPC is divided into five sections. The southernmost area is where you'll find most residents. The three neighborhoods in this region of BPC – Gateway Plaza, Rector Place Residential Neighborhood, and Battery Place Residential Neighborhood – contain a mixture of high-rise and low-rise dwellings, shops, restaurants, and plenty of parkland.
North of the residential areas is Brookfield Place. This is where you'll find a number of commercial buildings housing some of the most prestigious companies in the world, including Dow Jones, Merrill Lynch, American Express, and many more. This complex of buildings was designed by architect César Pelli and built between 1985 and 1988. Many of Battery Park City's residents work at Brookfield Place.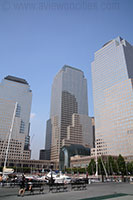 Brookfield Place
(World Financial Center)
Further north, an area appropriately known as the North Residential Neighborhood contains some high-rise housing, a hotel, a handful of shops and restaurants, and the Stuyvesant High School, attended by students who excel in mathematics and science.
After September 11th
When the World Trade Center fell on September 11, 2001, buildings in BPC suffered mild to severe damage. More than two-thirds of Battery Park City's residents left and moved elsewhere. Environmental concerns loomed large, particularly with regard to toxic dust from the collapse of the towers and adjacent buildings. Fortunately, much of Battery Park City has recovered, and new residents are again buying homes in this neighborhood.