Located in Manhattan's tony Greenwich Village neighborhood, the Jefferson Market Library is a branch of New York City's acclaimed public library system. This unique building became a library in 1967, but prior to that had a long and colorful history.
The Early Days
The Jefferson Market Library, originally a courthouse, was designed in the Victorian Gothic style and was erected between 1875 and 1877 alongside an adjacent prison and market. It cost $360,000 to build and housed a police court, a civil court, and a basement where prisoners were held before they headed off to jail.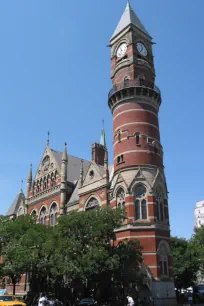 The building was continuously lauded for its unique and splendid architecture, and was often touted as one of the most beautiful buildings in the country at the turn of the century.
The courthouse was the site of a number of famous trials, including the murder trial of Harry Thaw, who was accused of killing architect Stanford White. The famous trial, which also involved chorus girl Evelyn Nesbit, became the subject for E.L. Doctorow's novel Ragtime, which was eventually turned into an award-winning Broadway musical.
After decades of hosting a number of other sensational cases, the Jefferson Market Library ceased being a courthouse in 1945 and became New York City's Police Academy. The building closed its doors in 1958.
Preservation
After several years of deterioration, a plan was hatched to demolish this breathtaking building, which by this time lacked its original splendor. Concerned Greenwich Village residents, however, saved it from the wrecking ball, and by 1965, plans were in place to turn the old courthouse into a branch of the New York Public Library system.
It opened in 1967, with its 'cut stone faces and flowers, spiral stairs, soaring stained-glass windows, [and] the feeling, form and sensibility of another age'. (Ada Huxtable, architectural critic, New York Times, 1967)
The Library Today
The Jefferson Market Library is best known for its extensive collection of books on the history of Manhattan, with a special concentration on the history of the eclectic Greenwich Village neighborhood in which it sits. Of course, it also includes all the other things you'd expect to find in a branch library, including a large children's room, adult reading room, and expansive reference collection.