In 1967, the Ford Foundation, a private non-profit organization, built its modern headquarters in New York at 42nd Street. The building is best known for its huge glass atrium with a surprisingly romantic garden inside.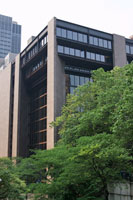 Ford Foundation
Building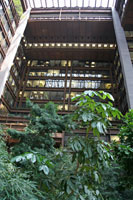 The atrium
The atrium and its garden are open to the public during business hours. It is one of the most serene places in bustling Midtown and if you're interested in urban gardens, then this is something you'd certainly want to put on your itinerary.
The Building
The building of the Ford Foundation was designed by architect Kevin Roche and constructed between 1963 and 1967 on a sloping site bounded by 42nd Street, 43rd Street, First Avenue and Second Avenue. It stands out from Midtown's numerous high-rises thanks to its peculiar cube-like shape.
The twelve-story building's exterior shows an exposed frame of cor-ten weathering steel with large glass panels and walls clad in pink-brown South Dakota granite.
But it's the interior that makes this building particularly noteworthy. Offices only occupy two sides of the building, and all of them look out over a huge, glass enclosed atrium. Inside the atrium is a surprisingly lush garden that flourishes thanks to the abundance of light that enters through the skylight and windows.
The building is considered one of the most successful post-war structures in New York. Its architectural value was recognized in 1998 when it was officially designated a New York City landmark.
The Garden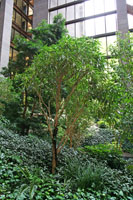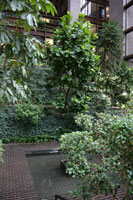 The garden
In the idealistic post-war era, many developers and architects tried to bring nature and modern architecture together by creating interior gardens in atria of large buildings. Most of the time, however, this resulted in a few withering plants placed together under artificial light.
Not so in the Ford Foundation building: the glass walls and 160-ft-high (49 m.) glass ceiling of its atrium acts as a sort of greenhouse, and the atrium feels like a small park with shrubs, trees, walking paths and even a pool. The plants thrive here in the sunlight and climate-controlled air, even in wintertime.
The garden was created by the landscape architect Dan Kiley. Due to the difference in elevation between 42nd and 43rd Street, he created a terraced layout, with three different tiers of lush, dense planting. There are also planters on the upper floors around the atrium, increasing the feeling of being in an outdoor garden. Rainwater from the roof and steam condensate is used to water the plants and fill the pool.