A familiar sight in the Brooklyn skyline, One Hanson Place (formerly known as the Williamsburgh Savings Bank) was the tallest building in Brooklyn until the construction of The Brooklyner in 2009.
About "The Willie"
The building often referred to as "the Willie" was built between the years 1927 and 1929, completed just before the onset of the Great Depression.
One Hanson Place
This wonderful Art Deco edifice was built by the architectural firm Halsey, McCormack and Helmer, and at 512 feet (156 m.) in height, immediately received acclaim as the tallest building in Brooklyn. As a matter of fact, for many years, it was the tallest building "between Manhattan and Paris".
The ground floor banking room was magnificent, boasting 63-foot-high (19 m.) vaulted ceilings and incredible 40-foot-high windows that let in the sunlight. At 112-feet-long and 73-feet-deep (34 x 22 m.), decorated with mosaics and plenty of Italian Marble, the grand banking room has long been considered one of New York's finest interiors.
The exterior of the 34-story building includes a huge 4-faced clock, which was the largest in the world from 1929 until 1962. A large gilded copper dome sits at the very top of the building, paying homage to the original Williamsburgh Savings Bank, located in the "Williamsburg" section of Brooklyn.
What's Inside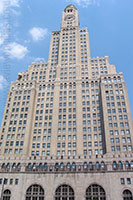 The facade
Of course, the main purpose for the building of this Brooklyn icon was to house a banking facility, but there were also 33 stories of offices to rent to other businesses.
For many years, as a matter of fact, the Williamsburgh Savings Bank building, located at Atlantic and Flatbush Avenues in Brooklyn's Fort Greene neighborhood, was known as "The Mecca of Dentistry" because so many dentists rented space there. An observation deck on the top floor was open to the public until the 1990s, making it a popular place to visit for great views of the city.
In October 2005, the banking hall closed its doors for the last time when the building was sold to a developer who turned the Williamsburgh Savings Bank into 216 high-priced luxury condominiums.