At only ninety-two meters (302 ft.), the Lever House is a small building by Manhattan standards, but the glass-walled skyscraper marked a turning point in American office architecture.
A Squeaky Clean Building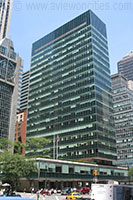 Lever House
The Lever House was constructed in 1952 as the new headquarters for the Lever Brothers Company, the biggest manufacturers of soap and detergents.
They commissioned Skidmore, Owings and Merrill to build a modern, clean and American building. Gordon Bunshaft, the lead architect, based its design on earlier ideas from European modernist architects such as Mies van der Rohe and Le Corbusier, but it was the first time their radical ideas were implemented in a corporate office tower.
An Innovative Design
Gordon Bunshaft made the tower a slab with its narrow side towards the street. The slab is counter-posed to a horizontal slab which floats on a series of columns. The horizontal mezzanine is cut out in the center, creating a central courtyard. Due to its inefficient use of the available space (only 25 percent of the surface is used for the tower), the suburban-style layout has not been copied much, but its curtain glass office tower became the de facto standard for modern office buildings in the United States.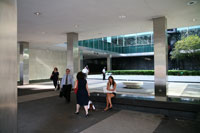 Detail of the 'floating' mezzanine
Copycats
The fact that glass-clad office towers now seem like a dime a dozen in New York shows how much Bunshaft's design has been copied. When it was built in 1952 it was the first glass-walled building and stood out amid the masonry structures of residential Park Avenue. It was soon followed by many other modern office buildings, among them Mies van der Rohe's Seagram Building diagonally across the street.
A modern historic landmark
In recognition of its architectural importance, Lever House has been the recipient of numerous awards and recognitions. In addition, Lever House is also recognized for its historical importance: not only was Lever House designated an official landmark in 1992, it is also on the US National Register of Historic Places.
Unilever, Lever's parent company, moved out of the building in 1998 and since then Lever House has gone through a series of renovations, the latest starting in 2022. It is currently owned by a real estate company.