One of the largest government buildings in the world, the Municipal Building in downtown Manhattan, is a magnificent structure worthy of its "City Landmark" designation.
History of the Municipal Building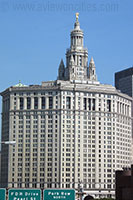 Municipal Building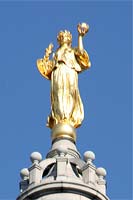 Civic Fame Statue
By the 1880s, the city of New York was growing in leaps and bounds. The population had increased to more than a million residents, and the government was outgrowing its offices. The mayor, Franklin Edson, recognized the need for more space for government offices and was reluctant to add onto the original City Hall building.
Instead, between the years of 1888 and 1907, the city organized a series of competitions to choose designs for several new structures, including the municipal building. A member of the well-known firm of McKim, Mead, and White was the winner and plans began for the construction of the current Municipal Building.
By the time the foundation was laid in 1908, the population of New York City numbered more than 4.5 million and McKim, Mead, and White recognized the need for a large, stately building. The Municipal Building, the firm's first skyscraper, was soon recognized as one of the grandest and most ornate buildings in the city.
About the Building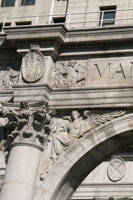 Detail of the Colonnade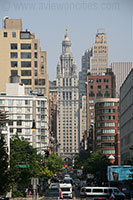 View from
Chambers Street
The Manhattan Municipal Building was designed in the Roman, Italian Renaissance and Classical styles. The center tower soars 15 stories above the lower part of the building, which stands 25-stories tall.
On top of the central tower is a 20-foot (6 m) tall statue known as "Civic Fame", fashioned by sculptor Adolph Weinman. In addition to this statue, visitors will see various types of sculpture and relief covering portions of the building. Each represents the City of New York and Civic Service. In addition, Weinman designed the shields that were used in the elevators, on the molding above the colonnade and on the false colonnade above the 22nd floor.
The Municipal Building was completed in 1915 and by the following year, all the offices were full. Since that time, the building has been the sight of two major renovations, most recently in 1993.
Today, the magnificent Municipal Building is home to the Department of Citywide Administrative Services and several other city services. The mayor of New York also keeps his office in this building.
The Municipal Building has also earned fame as the place where approximately 30,000 New Yorkers are married each year in civil ceremonies that last about four minutes.