Adjacent to the New Orleans Museum of Art is a beautiful sculpture garden, created to showcase sculptures in a natural outdoor setting. There are plenty of works from famous artists such as Henry Moore and Auguste Rodin.
Creation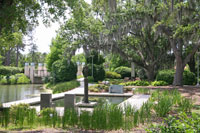 Sculpture Garden
The sculpture garden opened in 2003 on a five acre (two hectare) site near the Museum of Art. The majority of the collection of sculptures was donated by Sydney and Walda Besthoff, who started collecting twentieth-century sculptures in 1973. They donated their collection to the Museum of Art, which made the site available and, with the help of some twenty donors, acquired the necessary funds for its construction.
In 2005 thirty percent of the garden was destroyed by Hurricane Katrina. After a three-month renovation, the garden reopened in December that same year.
Sculptures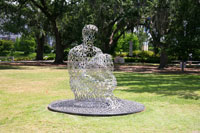 Overflow, Jaime Plensa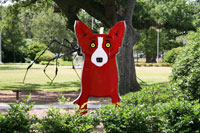 We Stand Together,
George Rodrigue
The garden initially opened with a collection of fifty sculptures from artists around the world. The sculptures are installed in a beautiful natural setting around a central lagoon, laid out by project architect Lee Ledbetter and landscape architect Brian Sawyer. It is a pleasure to walk on the winding paths that lead visitors past ancient oak trees and over pedestrian bridges to small plazas.
The sculptures are of course the highlight of the garden and there are many showcase pieces from renowned artists, including Auguste Rodin (the 'father of modern sculpture'), Henry Moore (possibly the most celebrated twentieth-century sculptor), Louise Bourgeois (famous for her huge spiders), Jaume Plensa (known for his Crown Fountain and figures constructed of letters), Paul Manship (creator of the Prometheus statue at Rockefeller Center) and many others.
The museum continues to acquire new pieces of art. It is recommended to get a brochure at the entrance main entrance to the garden on Dueling Oaks Drive, which gives you info on all the exhibited sculptures. Entrance to the garden is free of charge.