The New Orleans Museum of Art has an impressive permanent art collection, particularly noted for its French, American and African exhibits. The museum also manages the excellent outdoor sculpture garden near the museum.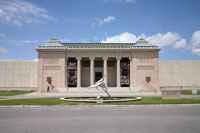 NOMA
NOMA is one of the most important museums in the Southeast, with a diverse collection of artwork from around the world. It opened in 1911 at the City Park as the Isaac Delgado Museum of Art, with a collection donated by the wealthy businessman Isaac Delgado. The museum's collection is housed in a magnificent Beaux-Arts building designed by Samuel Abraham Marx and erected under the guidance of local civil engineer Benjamin Morgan Harrod, who was an art collector himself.
The Collection
The permanent collection contains more than 40,000 paintings, sculptures, photographs, drawings and decorative objects from across the world.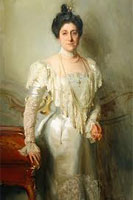 Portrait of Mrs.
Asher Wertheimer by
John Singer Sargent
In the European galleries, works from some of the most important Italian, French, Dutch and Flemish painters are displayed. It is especially strong on Italian and French art and includes several paintings from impressionist Edgar Degas, who visited New Orleans in 1871 and 1872. The museum also has some fine works from American artists such as John Singleton Copley and John Singer Sargent and a whole gallery is devoted to Louisiana artists.
One of the museum's highlights is its collection of African art, one of the best in the country, with many wooden masks and figurines. In the Oceanic galleries, you can see shrunken heads and an eighteenth-century temple figure from Hawaii. A highlight in the Asian Art galleries is the fine collection of Edo Japanese paintings. Also of note here are the Indian sculptures and Chinese ceramics.
In the Decorative Arts galleries, you can't miss the large collection of glasswork, including Tiffany vases. A significant number of the famous decorated Fabergé eggs are also displayed here. Another interesting collection of the NOMA is the Latin American Collection, with many objects from the Mayan culture and a selection of Latin American colonial art.
Sculpture Garden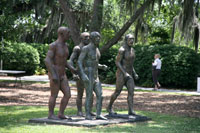 Sculpture Garden
Adjacent to the NOMA is the Sydney and Walda Besthoff Sculpture Garden, a garden with modern sculptures from celebrated artists such as Henry Moore, Paul Manship and Jaume Plensa. The sculptures are displayed in a natural setting along paths that wind around a central lagoon and past ancient live oak trees.