The Audubon Zoo, which occupies the south end of the Audubon Park, has a large number of exotic and local animals, and it is one of the rare places where you can see a white alligator.
Audubon Park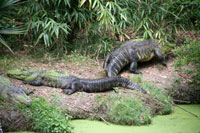 Alligators
The 340 acre (138 hectare) Audubon Park was laid out in 1871 on plantation land that was once owned by Etienne de Boré. In 1884, it was the site of the Cotton Exposition, which was centered around a monumental building, almost four times the size of today's Superdome.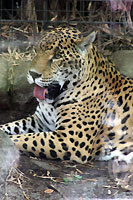 Jaguar
After the exposition, the park – then known as Upper City Park – was renovated and named after James Audubon, a famous ornithologist. The park has beautiful live oaks, ponds and fountains but its main attraction is the Audubon Zoo, which occupies some 58 acres (23 hectare) at the south end of the park.
The Zoo's Exhibits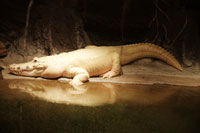 White Alligator
The beautifully landscaped zoo has several public plazas and fountains surrounded by enclosures and natural recreated habitats where the exotic animals are exhibited. One of the most interesting of these habitats is the Louisiana Swamp, where several alligators bask in the sun or lie in the water like floating logs. The zoo even has a couple of remarkable white alligators, which were found in the New Orleans region.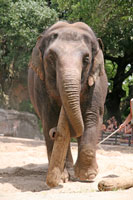 Elephant
The Audubon Zoo has another rarity: a couple of white tigers in the Asia Domain. Here you'll also find the ever popular lions and imposing elephants. Zookeepers show here how elephants can do tricks and chores such as lifting logs, which came in very handy during the cleanup after Hurricane Katrina. After the show, visitors are allowed to touch one of the elephants, a unique experience.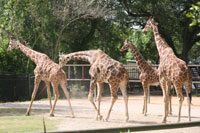 Giraffe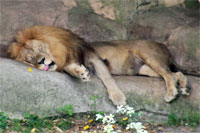 A Lazy Lion
Another star of the Audubon Zoo is the Komodo Dragon, which can be found in the Reptile Encounter, also home to a collection of impressive snakes such a boa constructor, python and king cobra. In the African Savanna you can see rhinos, giraffes, African wild dogs and the Monkey Hill, billed (incorrectly) as the highest point in the city at an amazing height of 8 meters (25.4 ft.)! (Another artificial hill in New Orleans, at City Park, is actually 70 cm – about 2 ft. – higher)
There are many other areas in the zoo, including the Jaguar Jungle – a Mayan-themed area with jaguars, ara and spider monkeys; the Primate Area with gorillas and orangutans and the South American Pampas, with tapirs and colorful flamingos. There's also a petting zoo and several other attractions targeted to children such as a carousel.