One of New Orleans's most recognizable landmarks is the Louisiana Superdome, a huge stadium built between 1971 and 1975 at the site of a former cemetery. The Superdome is the home stadium of the New Orleans Saints.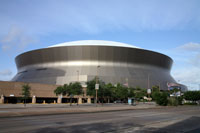 Superdome
The stadium is situated in the Central Business District of New Orleans, right near a cluster of highways. In 1999 the New Orleans Arena, a smaller stadium dubbed the 'babydome' was built adjacent to the Superdome.
A 'Super' stadium
True to its name, the Superdome is a building of superlatives. The immense indoor stadium is one of the largest buildings in the country, with a height of 77 meters (253 feet) and a diameter of 207 meters (680 ft). It is built on a 21 hectare (52 acre) large site. The stadium has a floor area of 269,000 square feet (almost 25,000 square meters) and can seat more than 76,000 spectators.
Events
The stadium is not only home to the local American football team – the New Orleans Saints – but it also hosts the annual Sugar Bowl, a popular college football game. It has also been host to a number of large events, including the Super Bowl (the championship game of American Football), rock concerts, presidential conventions, and it has even welcomed the pope.
Katrina
The Superdome was designed as a hurricane shelter, and was used as such in 1998, when some 14,000 sought refuge here as hurricane George approached. In 2005, when hurricane Katrina hit New Orleans, it was once again designated as the refuge of last resort and almost 30,000 evacuees sought protection here. Katrina's winds however blew parts of the roof away, and the evacuees were stranded here for six days with hardly any food or water. The shocking scenes of chaos and disgraceful living conditions were televised across the world and changed the image of the Superdome forever.
After a 193 million dollar restoration, the Superdome reopened in September 2006 with a high-profile event, the first major sign of the revival of the city after the catastrophic destruction caused by hurricane Katrina. The Superdome is now once again the city's premier location for major sports and cultural events.