The New Orleans Botanical Garden has a variety of botanical exhibits and themed gardens. Some 2,000 plant species from all over the world can be explored in this 12 acre (5 ha) large garden.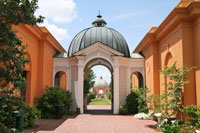 The Botanical Garden
The Botanical Garden is located in the southern part of the city park, and can be reached easily from the Central Business District near the French Quarter thanks to the Canal Street streetcar.
Creation
The history of the garden goes back to the 1930s, when it was created as part of the New Deal, a program initiated by president Roosevelt to create as many jobs as possible. The garden, then essentially a large rose garden, opened in 1936.
Themed Gardens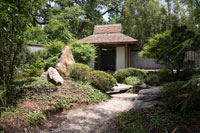 Japanese Garden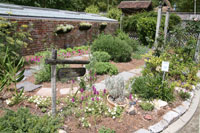 Aromatic Garden
The site is divided into a number of small themed gardens. The beautiful Rose Garden is still one of the most important, but there are plenty of other gardens, both with local and exotic plants. You can walk in an authentic Japanese Garden, an aromatic garden with scented flowers or the Palm Garden, where you find palm trees and bamboo. There's also a herb garden with medicinal plants, a colorful garden with azaleas, camellias and magnolias and the PLANO demonstration garden, with vegetables and fruit crops. The Botanical Garden is dotted with more than ten statues, mostly from the Mexican-born Louisiana artist Enrique Alférez.
Conservatory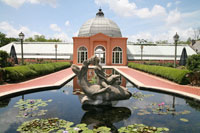 Lily pond and Conservatory
of the Two Sisters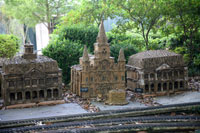 Train Garden
A couple of small greenhouses show the garden's collection of succulents and cacti. One of the highlights of the Botanical Garden is the beautiful rose-painted Conservatory of the Two Sisters. It is home to a tropical rain forest and shows an exhibit on living fossils, plants that existed before there were flowering plants on earth.
Train Garden
A peculiar attraction in the Botanical Garden is the New Orleans Historic Train Garden, which shows models of New Orleans landmarks made from natural materials such as twigs and bark. Miniature streetcars and trains travel through this scenery on a 1400-ft-long (427 m) railway track.