Established more than 150 years ago, Place Jacques-Cartier is a historic public area and a common central gathering place for locals and visitors.
The History of Place Jacques-Cartier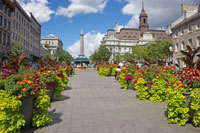 Place Jacques-Cartier
Historians say that long before the actual Place Jacques-Cartier was established in the mid-nineteenth century, the area seemed to be a place where people tended to gather for a variety of purposes.
It is believed that an Amerindian trail once passed through the area where the square now sits. Evidence from archaeological digs prove that these natives lived in the area for quite some time, planting crops and living off the fish from the nearby waters.
When Montreal was a fortified city, the Governor, Philippe de Rigaud Marquis de Vaudreuil, built his home at this same site. It was later used as a boy's college but was destroyed by fire in 1803. Ornate gardens, orchards, and outbuildings also graced the area.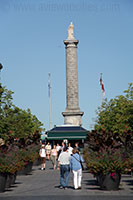 When the governor's chateau burnt to the ground, the New Marketplace was erected in its place. This covered market featured wooden stalls and was surrounded by stone buildings housing stores and inns. In 1847, the Bonsecours Market replaced the "New" Marketplace and became the center of life in Montreal. More hotels, restaurants, and shops sprung up around the market.
Finally, in the mid 1800s, the square and the street on which it was situated were given the official name of Place Jacques-Cartier – in homage to the famous French explorer.
Place Jacques-Cartier Today
Running from Hôtel de Ville and Rue Notre-Dame to the waterfront and Rue de la Commune, Place Jacques-Cartier is now the main street in the Vieux Port (Old Port) area and the heart of tourism in Montreal. The square boasts street corner artists, stalls selling fine handmade goods and other wares, and lots of restaurants and hotels. The area is bustling just about any time of the day and is especially festive at Christmas, when innumerable vendors appear there to sell their holiday finest.
Nelson's Column
Nelson Column
A prominent sight at the Place Jacques-Cartier is the thirty-five meter-tall Nelson Monument, strangely out of place in this Francophone city. The monument, a large pedestal with a statue of Admiral Horatio Nelson on top of a tall column, was built in 1809 and pays tribute to the English naval hero who defeated the French at Trafalgar, similar to the one at London's Trafalgar Square.
Surprisingly, it was mostly French-speaking citizens who funded the construction of the monument. Many of them opposed the Napoleonic regime, so they were more than happy to see the French naval force defeated at the hands of the English.